Protects your product from moisture, oxygen, contamination or infestation in stylish stand up pouches, or lay flat bags!
In stock & ready to ship FREE today!
Fully Certified FDA, Kosher, RoSH, BPA Free and much more.
Need a exact size barrier bag?
Getting a custom size bags is easier than you think with complete control of the size, features, and material on any order of 5,000 bags or more.
Need printed pouches?
Save time and money by having your pouches pre-printed we can print any logos, photos, or graphics you want on the base material, and then make your custom bags out of that!
Custom Size Pouches – Ready in 2 Weeks.
If you want to take your product to the next level you'll need custom sized packaging. Custom stand up pouches are created to your exact specifications: : size, color, configuration, every detail. Whether you need large stand up pouches to hold every ounce of deliciousness from your gourmet popcorn, or you need a high barrier stand up pouches designed to protect your pharmaceutical or medical device, each application has different needs both technical and aesthetically. Flexible barrier projects from roll stock and tubing, to stand up pouches, and lay flat bags, we've got you covered.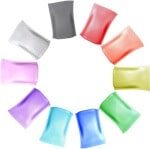 Save money and time with custom made stand up pouches. We have over 10 base colored materials to choose between, and with custom colorizing, you can obtain any color under the rainbow. As one of our most popular types of pouches, stand up pouches versatility well know, these unique custom bags have changed the way goods are sold and stored, making sure that your product is just as fresh as the day it was crafted. Stand up pouches also reduce the need for ancillary packaging, like boxes, tubes or bottles.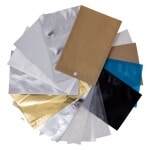 From frozen foods, to industrial chemical storage, we'll build your stand up pouches out of the right material and whether you need barrier stand up pouches, 3-seal, lay flats, or any other configuration, we can get you it in black, white, or see-through or a selection of different color options, so we've got you covered. Want to give your product a more rustic, natural or organic look? Check out our durable Kraft stand up pouches and lay flat bags. Want to add a touch of elegance? Our silver and gold foil stand up pouches are the perfect way to truly showcase your artisan craft. With over 40 materials to choose from, and custom lamination structures available, we can really focus on your application, crafting a product that meets both the aesthetic and technical needs of your use application.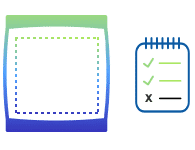 Don't see the exact size you need? We provided custom sized stand up pouches. Here is a common example you need stand up pouches that are freestanding, with reclosable zippers, but don't need hang-hole. We can do that! Or you've been looking high and low for stand up pouches of a specific dimension or you need smell-proof stand up pouches that are child-resistant? Consider it done. Your product is worth packaging that protects, preserves and presents it in a way that customers will love — which is why it deserves PouchWorth.
But, there are also many options beyond stand up pouches, including 3-seal, 2-seal, Square Bottoms, and more!
Key Features & Benefits for Custom Size Pouches
Low Minimum Order Quantity 5,000 stand up pouches.
Short Lead times as low as 2 weeks on stand up pouches, (or even less on lay flats.)
Over 40 materials to choose from when building your stand up pouches.
5 Pouch Configurations for every application.
Any size Pouch From 2-seal 2"x2" to big enough to wrap a plane.With stand up pouches up to 24x36x12!
Custom Pouch Sample Available to ensure proper sizing, we can get you a exactly sized match to your final specifications.
Full Compliance (FDA, KOSHER, CA Toxins in Packaging Compliant, and more.) Read More.
Trustworthiness: We are a smart, very knowledgeable and professional "mom and pop". We help our customers by using our extensive knowledge to ensure they pick the right packaging for their product. We're not a huge corporation, and take each of our customers seriously, giving the little guys the same level of care that is often reserved only for big accounts. The big guys might occasionally beat us on price, but they won't beat us on service.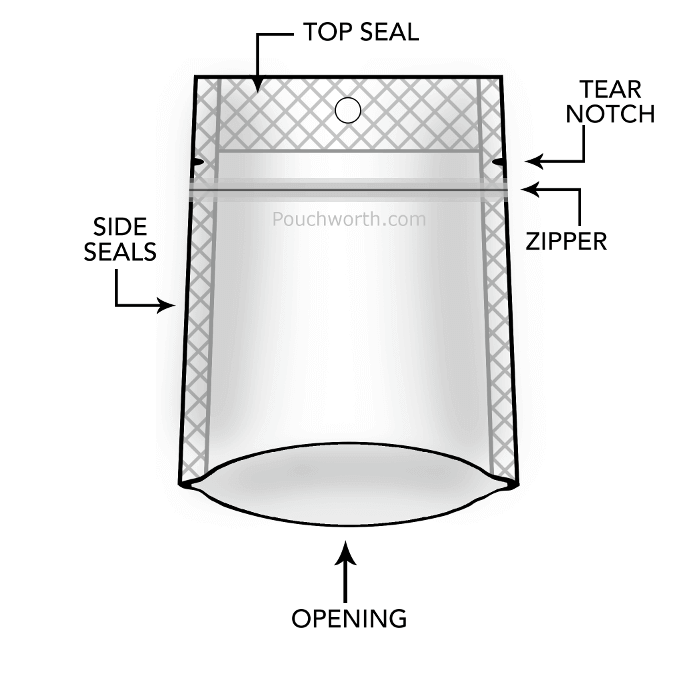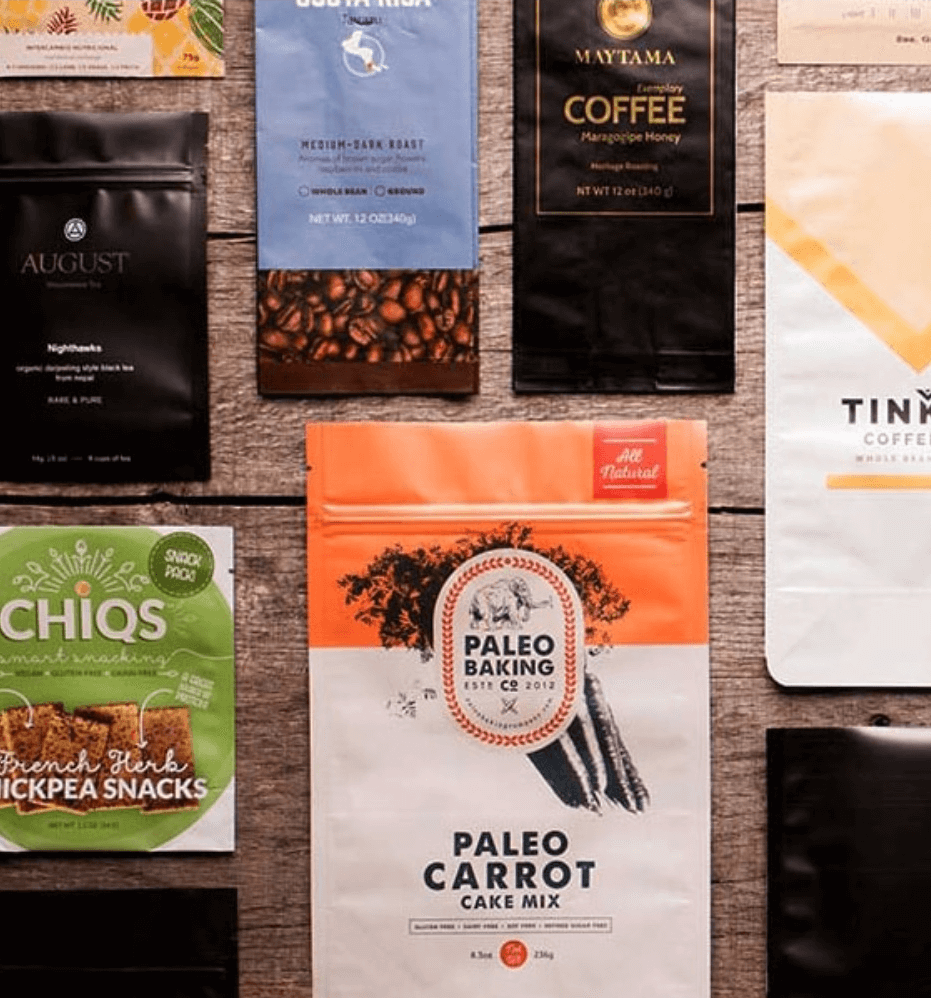 Custom Printed Mylar Bags
Our printed barrier pouches give you all the benefits of durable, food-grade packaging, along with superior creative freedom for your logo, tagline, graphics and much more.
We're delighted to work with your graphic designer (or graphic design team) to create a master proof that you'll fall in love with at first sight. Our printing methods roll colors onto the material one by one, so you save money and ensure that every pouch is identical.

Retail Ready in Just 4 Weeks!
Putting labels on your stand up pouches is tedious and time consuming. Whether you're ordering custom mylar bags or you need a specialized stand up pouch configuration, we can help your product be retail ready with just 4 weeks lead time after artwork approval.

Let Your Creativity Flourish!
With our custom design printing we offer digital, plate and cylinder printing for stand up pouches, 3-seals, fin seals, and almost all our configurations (some exceptions), giving you the full spectrum of creativity with true PMS colors and FDA-approved film. We can even do matte and gloss lamination for added standout appeal.
Custom Printed Pouches: Key Features & Benefits
Low Minimum order quantity: 5,000 printed stand up pouches is a reality!
Low lead times: As low as 4 weeks (most competitors are taking 10 weeks).
Custom sizing and full printing: While getting your stand up pouches printed you can also custom size them.
Multiple Methods of pouch printing: Digital, Flexographic, Cylinder printing.One size does not fit all, depending on the bag configuration stand up pouches and lay flats might benefit from different printing methods. We don't steer you to the machine that needs jobs!
Low Setup Costs Zero – $295 per color, depending on print method)
Full Art Setup included: Quality printed stand up pouches require great setup to maximize the effectiveness of your design. We assist with all aspects of the technical art setup!
[rev_slider_vc alias="custom-printed-slider"]
PouchWorth - We know a ton about packaging.
Flexible Barriers - A Smart Choice In Packaging
The materials our pouches are made out of are flexible barrier films, which are lamination of different types of plastics, and other materials put together to create a exceptional barrier to moisture, oxygen, and contamination, without the weight of glass, or hard plastics. Barrier pouches provide an added layer of protection for all types of goods. Food and snack items stored in a free-standing barrier pouch will maintain freshness while helping to block out air, moisture and other contaminants. Liquid items stored in properly-closed barrier pouches stay protected against leaks and accidental spills.
Their built-in tensile strength, together with puncture resistant standup bags makes these pouches the ideal choice to store and save a wide range of dry, liquid, aseptic and chemical products.
You see this kind of bags in the store now days instead of cans or bottles because they have the same barrier but are cheaper, easier to transport, and recycle.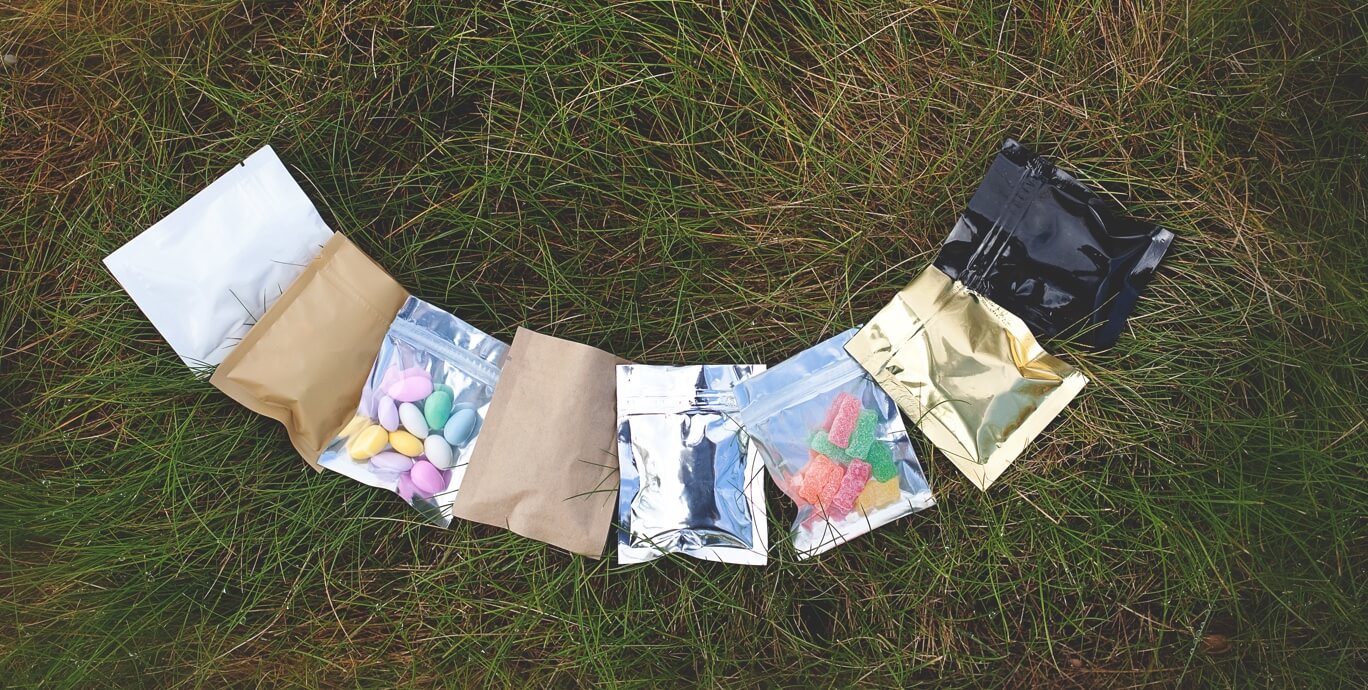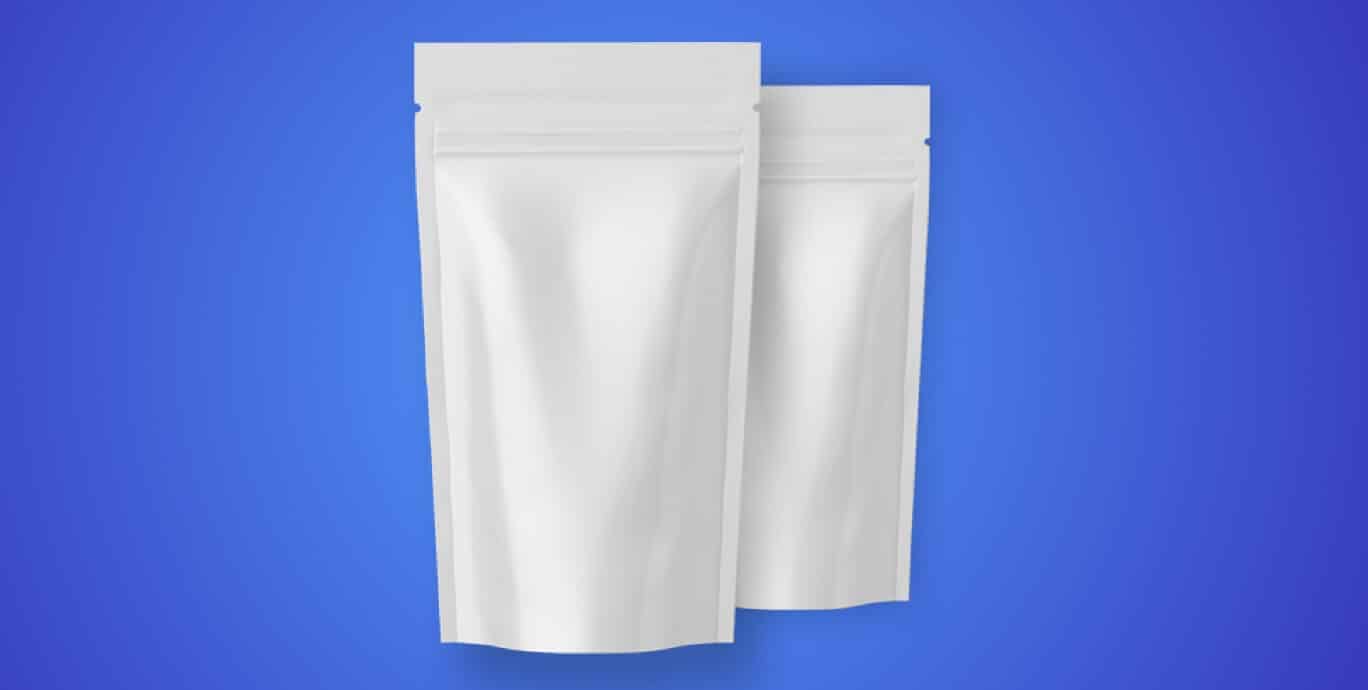 Stand Up Pouches - Preserve and Protect!
At PouchWorth, we believe you only get one chance to make a first impression with your product. You want to present and protect it while making it look attractive and eye-catching to consumers.
Stand up pouches
can make all this happen while adding ease of use and storage, providing a variety of benefits to you and your customer.
Stand up pouches can be made of several different barrier materials that each have different performance characteristics. One material is not best for all applications. We even offer compostable and bio-degradable options for making stand up pouches.
Food Grade Barrier Packaging
Whether you're selling granola or loose leaf tea, dried fruit or pet food, stand up pouches makes your product accessible and protected. But don't limit yourself to just stand up pouches, other configurations like the
three side seal
can be the best choice for certain applications where shelf display is not necessary. PouchWorth's barrier stand up pouches, 2 and 3 seal pouches, and tamper evident pouches are designed to meet precise FDA and USDA food storage guidelines, so they're the perfect choice for all types of snacks and specialties.
And because every all our stand up pouches protect your product from moisture and won't trap excess oxygen, your product stays fresher, longer — saving you money.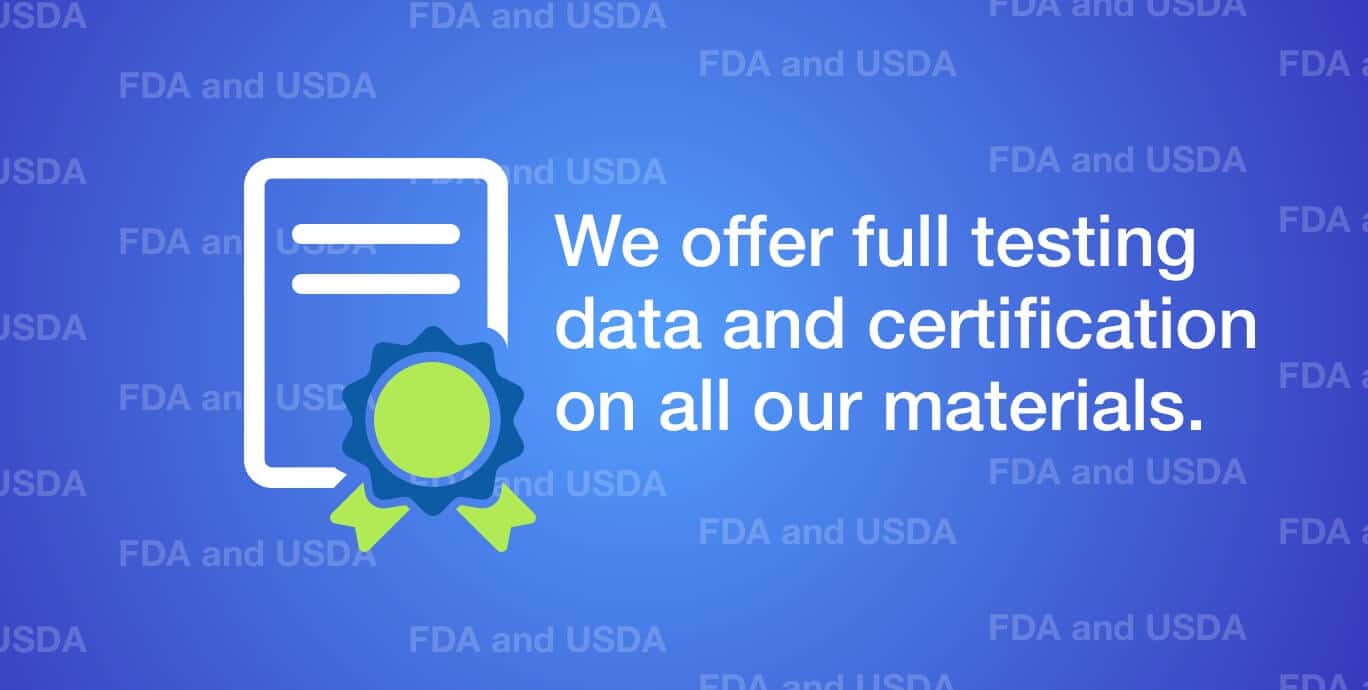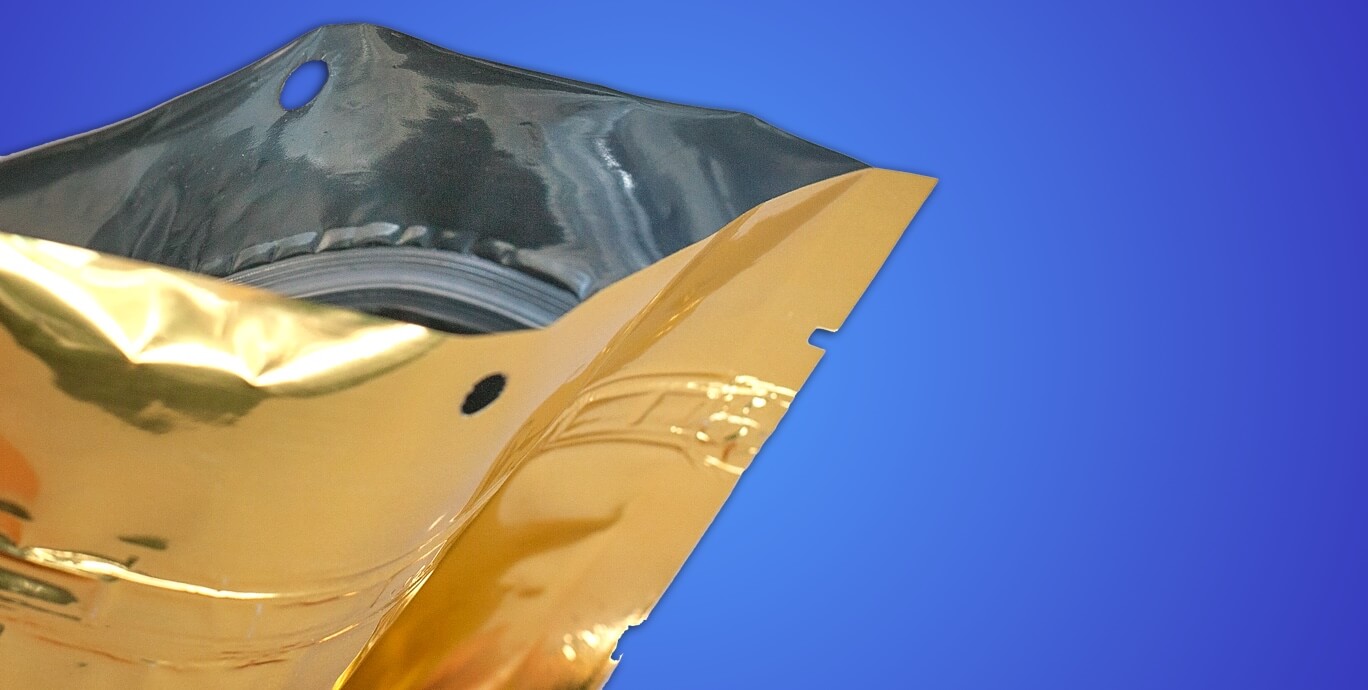 Ease of Use & Features Your Customers Will Love
Even though PouchWorth's stand up pouches are designed to be durable and strong, your customers will be glad to know they're not impossible to open. With a multitude of features including easy-tear tabs,
zipper closures
and hang-holes, you'll enjoy the added benefit of prime shelf space along with ease of use no matter what's inside.
Spouts are another popular feature to add to stand up pouches for liquid applications. spouts can be added to bags up to 16″ tall. As much as we do talk about stand up pouches (because they are very popular), we also want to remind you that basically we start with a roll of material and then craft your bag from it, so there are few limitations.
Frequently Asked Questions
Can I pick and choose the custom features I need?
At PouchWorth, we give you the freedom and flexibility to completely customize your stand up pouches the way you want it! With over 40 individual barrier materials to choose from, as well as a variety of custom sizes and thicknesses, each of our customize bags are designed to fit rigid packaging specifications and regulations, so you can be assured of quality and durability.
Here is a example: You've been using 4×6.37×2.375 stand up pouches for years, but you realized if you just made those 4×6.75×2.5 stand up pouches your product would fit just perfectly. Alternatively, lets say you do not want stand up pouches at all! they just are not necessary for your application, then great SAVE MONEY customize a lay flat pouch and remove features you don't need.
What are your smallest and largest custom size bags?
Our smallest custom pouch size is 1"x2" no feature, but as for the largest there's no limit to the width or height on flats, for stand up pouches we are limited by the roll width which is dependent on the material.  Feel free to be as specific as you need with regards to your pouch packaging — there's no job too big or too small for PouchWorth!
How many pouches should I order?
If you just need bags fast, try our
stock pouches
with low quantities of 100 bags or less. Custom stand up pouches have a minimum order quantity of 5,000 pieces – but when you consider that your customers will love how fresh, shelf-stable and easy-to-store your product is, don't be surprised if you need to order more — quickly!
How fast can I get the bags?
On non-printed bags
Fortunately, our pouch professionals only need 2 weeks lead time to craft your custom pouches at the size you need, so you'll have them in your hands before you know it. And we don't skimp on quality, either. You could say that we don't cut corners — because if we did, how would our pouches stand?
On printed bags
Be retail ready with just 4 weeks lead time after artwork approval. Some projects and printing methods take longer.
In stock bags
Stock bags usually ship in 1-2 days.
Can you help me figure out the correct size for my product?
Yes, we can! We offer custom handmade samples once you are ready to go and have a submitted PO to help confirm sizing.

Ready to get started? We would love to help!
Take the next step toward showcasing your product on store shelves in a way that's not only attractive to consumers, but also protects your product from moisture, oxygen, contamination or infestation. Strong, tensile custom barrier pouches are making it easier than ever for customers to enjoy your product. When you combine our unique packaging solution with unsurpassed freedom and flexibility in custom sizing, printing and design, you can easily see how PouchWorth is the best solution for all your stand up pouch needs.
Not sure exactly what you need?
No problem! Our friendly, helpful pouch professionals are ready to help answer all your questions and guide you toward making the perfect choice for your unique needs and product specifications.
We invite you to tell us more about the product you're looking to have packaged. We'll respond promptly and provide you with advice and recommendations as well as pricing and time frames, so you can be assured of the best possible pricing and the best possible results — because your product is worth it!
The possibilities are endless! What will you create?