A bag that fits your product
3 side seal pouches are a fantastic choice when you do not need the product to sit on a shelf. Frozen foods, candies, jerky are just a few examples where this would be a viable configuration. With lower price points than Stand Up Pouches pouches are widely used because of their ability to be easily and quickly filled with product. In the 3 side seal configuration, you load your product in the same way that customers remove it, through the top. Additionally bags with zipper could be used without heat-sealing (but not recommended)
The 3-side seal pouch. Simple, straightforward. If you think about it, a flat pouch could be the perfect packaging for your product.  Not to mention, flat pouches are a fantastic choice when your product doesn't need to sit on a shelf. Frozen foods, candies, jerky, cannabis, pharmaceuticals, you name it. Easy and quick, load the 3 side seal pouch through the top, seal and done! Your product will stay fresh and moisture and oxygen free until your customer opens the packaging.
If you are in need of these little unsung heroes, give us a call.
Demand for your product is growing, and so is your business. But you:
Can't find the right packaging size.
Yep, standard bags often don't fit*
Wonder why your competitors packaging looks so professional?
Don't make your product fit the packaging, make your packaging fit the product.
Are you exhausted from hand labeling?
No more! Please help me! – Yep we can pre-print.
One pouch doesn't fit all. We know. That's why we've tailored solutions to help you get the pouch that's right for your product.
Custom size 3-side seal flat pouches
You choose, we deliver. We will produce custom size bags with any features, size or materials you choose.
Custom printed flat pouches
Stand out from the crowd. We print any branding elements on the base material of your choice and produce your bags with it.
Stock 3-side seal pouches and bags
No branding? No problem. We will ship you stock sized bags right away, no customization required.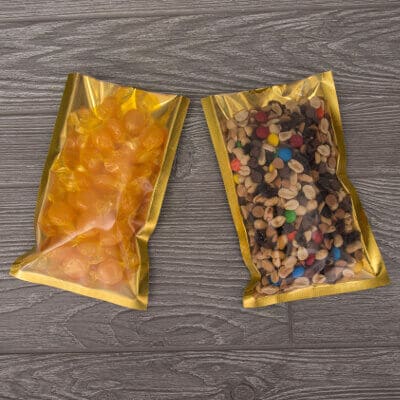 Think about it. It's not just about a 3-side seal pouch—it's only a flat pouch after all. It's about getting it done right. And fast.
Here's what you get if you choose these (3-side seal) pouches:
Low minimum orders
Testing out a product? Not sure if branding is right yet? No worries, you can make a small order (as low as 5,000 flat pouches).
Materials galore
Choose from a huge selection of materials, over 50 barrier materials to build your bags from.
Certifications aplenty
Including FDA, BPA free, TSE free, Kosher, RoHS and REACH certified. Wow!
Outstanding dedicated support
Need assistance with technical art setup or just have questions? Whether your business is big or small, our staff is more than ready to help you.
The fastest lead times
Tired of waiting forever? No more! Your order could be ready within 2 weeks on non-printed bags or 4 weeks on printed pouches. Now, that's quick!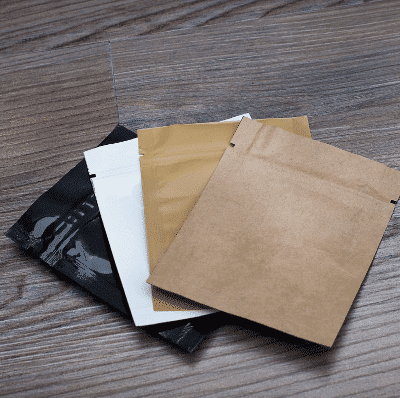 Ready to take the next step?
You want a professional image for your product—and a 3-side seal pouch that fits like a glove. You want to protect your product, extend its shelf life. And of course, you want to comply with all regulations. If you want it all, then you are ready. So go ahead, get started. Give us a ring.
Your product's worth quality packaging, and a 3-seal might be it!
We are PouchWorth, a team that believes your product is worth it, no matter how big or small your business is. Over the last 5 years, we've helped hundreds of companies develop outstanding barrier packaging for their products. And now we want to help you on your journey to success.If you already feel we are a match made in heaven or just want to get to know us better, give us a call. We'd love to hear from you!