Great coffee packaging, sells more coffee! Our goal at pouchworth is help you sell more coffee. With innovative packaging options like compostable bags, to great marketing advancements like digital printing, we're opening up the industry to small and medium roasters to compete with the big boys (and girls). Give us a call to discuss your brand and packaging needs. 949-336-1541.
If you drink it each morning like we do, you know that coffee bags come in all types of shapes, sizes and colors. You also know that given all the wonderful styles of coffee, flavors and price ranges, this is a drink worthy of good packaging.
PouchWorth Advantages in Coffee Packaging
Best Prices: We know budget is a cocern, we can meet or beat just about everyone.
Custom sized coffee packaging: Your coffee, your size bag.
Compostable materials (including valves) available.
Plate and Digital Printing Options
1,000 bag minimum order quantity. 5,000 recommended.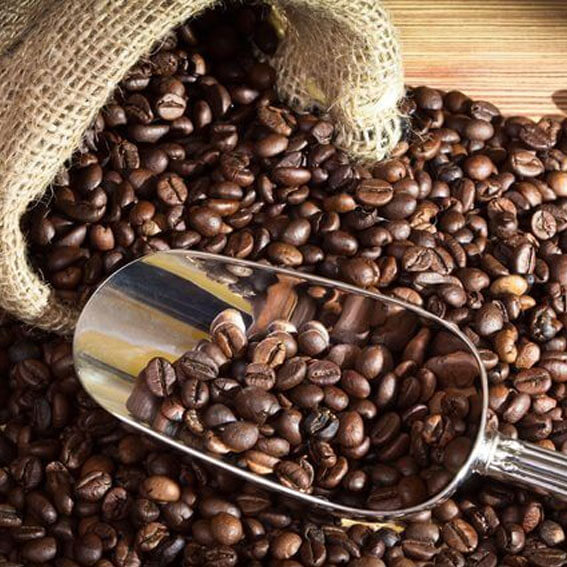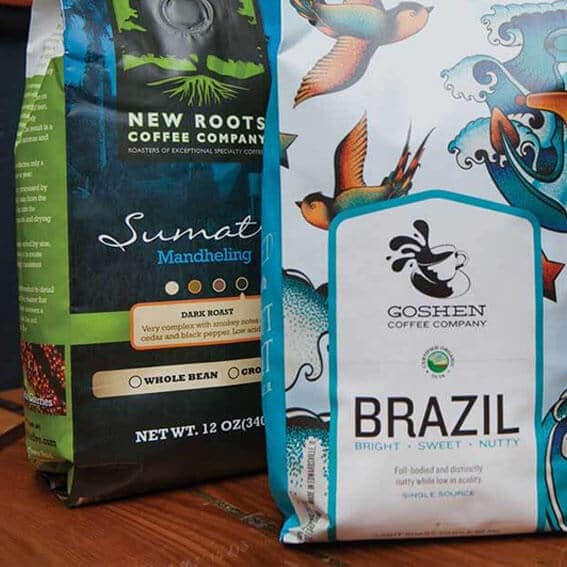 Digital Printing Your Coffee Bags
We offer digital printing with custom sizing. Unlike competitors, we don't limit you to a few set sizes, and configurations. With digital printing we can print multiple variations of your coffee packaging, so even roasts that you don't sell a lot of can have their own design and images.
Customers who reach the 10,000 level of purchasing can also explore our plate printing options to print their coffee bags with their own customized art work. Plate printing yields a lower per-unit cost, but may result in higher setup costs. Printing your coffee packaging,  helps increase the image of your brand, and gives a great first impression when your customer is perusing the coffee aisle.
With both digital and plate custom printing you also have more real estate to spread your brand identity because you're not limited to a small label. Also, buying custom printed bags saves your employees time from having to label individual bags.
Coffee Packaging Pricing
The price of coffee packaging is determined by a couple of factors. Quantity ordered, style and complexity of printing, the configuration you choose, and the material. The list to the right should give you some ball-park pricing to go by. Your individual project may vary depending on your choice of materials, features, configuration, and printing style. Give us a call to discuss your project and get a quote.
| | |
| --- | --- |
| Size | Price Range |
| 4x8x2 | $.18 - $.45 |
| 3.5×8.5×2 | $.19 - $.50 |
| 6×9.5×3.5 | $.22 - $.60 |
| 9×13.5×4.75 | $.29 - $.85 |
What makes the difference in these price ranges for coffee packaging? It is effected by your choice of material, configuration, printing, features, and quantities. You know that coffee bags come in all types of shapes, sizes and colors. You also know that given all the wonderful styles of coffee, flavors and price ranges, this is a drink worthy of good packaging, but you also know you need to hit certain price points depending on your market segment.
Trends In Coffee Retailing
As grocery stores reconfigure their shelving, it leaves certain products above or below the coveted eye-level area. In the coffee industry, many grocery stores have shortened their shelves in order to showcase more varieties overall. This can hurt roasters who usually package in 1lb bags as they are taller and hence placed on the lower or top shelves, out of eye level.
Additionally, coffee buyers are most concerned with total cost as opposed to per ounce cost. So even if your one lb bag of coffee is less costly per ounce than a 12 oz bag, the customer will purchase the 12 oz bag. Don't let that happen!
PouchWorth works with many coffee clients who are fighting for that eye-level area by changing their art, bag configuration and approximate volumes for whole bean and ground coffee. Contact us today to see how we can help you take your coffee business to the next level through packaging that gets noticed.
Guide To Choosing Your Coffee Packaging
Just like there is a range of different types of coffee beans, roasting styles, and forms coffee is sold in. There are a range of packaging options for coffee, in the ever-developing world of selling coffee. Coffee packaging options include:
Material Choices: from long shelf life materials to Compostable coffee packaging.
Configurations: Square Bottom, Flat Bottom, Quad Seal, Stand Up Pouches, flat pouches.
Features: Degassing valves, tin-ties, zippers, pocket zippers.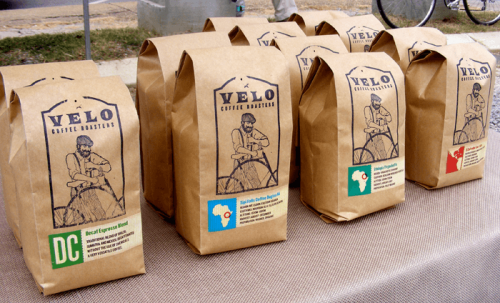 Most customers come to us knowing what type of configuration, size, and features they want based on factors such as storage conditions, shipping, and the selling environment, and whether the coffee is being packaged for retail or industrial customers. Often customers want help selecting a printing choice, and quantities they can afford. If you are decided on the configuration you want to work with here are some general suggestions and a overview of some of the available options for coffee packaging
First, a good coffee packaging bag is built from the right materials, compostable and biodegrable materials have become very popular, but won't have the same self life potential of more traditional materials that offer a more active barrier against moisture, dust, ultraviolet rays, and a variety of other environmental factors that can affect the quality of your coffee. Two of our best material families for coffee packaging are: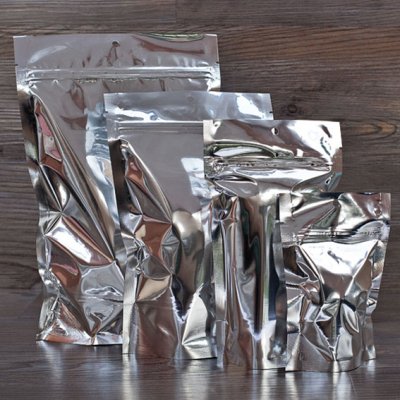 Truefoil: High barrier materials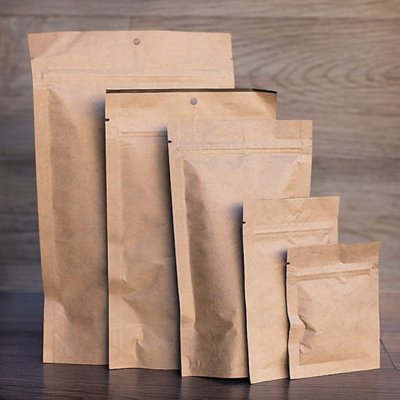 BioKraft: Our compostable materials.
Good coffee packaging not only saves your product from multiple environmental factors, but it also makes your product more marketable. That is where branding, and marketing come into play. Our materials are compatible with labeling, and with many coffee packaging colors, configurations and options to choose from, our smaller customers select a base bag design and add their own labeling. This is an excellent choice for folks getting their coffee selling empire off the ground.
Most coffee packaging incorporates a one way de-gassing valve, allowing air pressure to exist the package while prevent air from entering. Freshly roasted beans release carbon dioxide so one-way valves prevent bags bursting, and helps maintain the freshness of the beans. The need for barrier protection and a functional one-way degassing valve is critical for preserving roasted beans. But there are other atmosphere modifying options. The ultimate concern when addressing freshness and selecting coffee packaging is how you will distribute: Retain stores, cafes, industries, or distributed to end-users nation- or worldwide? Basically, how long will your coffee be sitting in the distribution chain?
One-way degassing valves: are the most popular atmosphere modifier feature used in coffee packaging today. The valves allow the natural build-up of carbon dioxide in freshly roasted coffee a discharge route while not letting oxygen, moisture, or light inside the bag. There is some good evidence that these valves may not be required for all applications, but for any long duration distribution chain, they are good insurance.
Other atmosphere modifier packaging options include nitrogen gas flushing, which displaces oxygen in the coffee packaging before filling, and the use of high-barrier packaging materials to prevent gas or moisture migration.
Filling Process Considerations
Will you be hand-filling your coffee bags or are you considering automating with coffee packaging tools? If you plan to hand-fill your coffee bags. It is generally recommended that you pick a configuration that has more space in the top to allow you to easily scoop in the coffee. While hand-packing reduces machinery costs, it drastically reduces your fulfillment quantity, accuracy, and ability to ramp up production. Most modern coffee packaging machines work with multiple bag styles and sizes.
Coffee Packaging Configurations: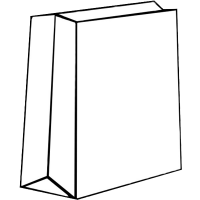 Quad Seal Bags
The flat bottom coffee bag is a traditional format that has been popular for years. It stands independently and creates that classic brick shape when the top is folded down. A disadvantage to this configuration is it is not the most economical.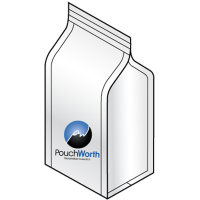 Block Bottom / Flat Bottom Bags
A quad seal bag has become another very common coffee packaging configuration. Less costly than the flat bottom coffee packaging configuration, but still holds its shape and can stand independently. It also can support more weight than a flat bottom bag.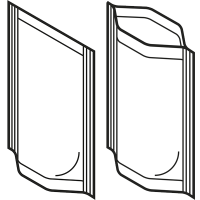 Stand Up Pouches
Stand up pouches are more economical than the other two configurations and offers several advantages. First it can stand independently, and has become a familiar shape to most consumers, but it also allows for the use of different.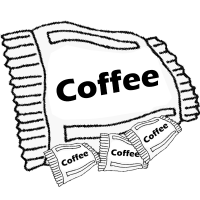 Outer Packaging (BIB)
Bag-in-Bag packaging is branding options for food service and small packs. The small packs or frac packs are usually made of tubing that is sent through a machine for form and fill, and then the frac packs are placed in the a larger bag.
Coffee Packaging re-closure options:
We offer all the common ( and some less common) coffee packaging features, here is a list of most options: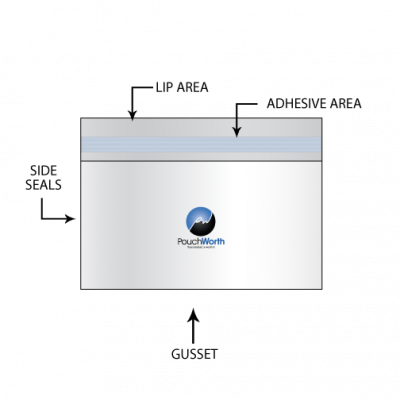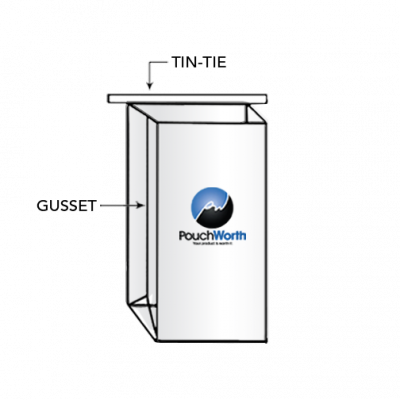 With 5 re-closable zipper options we can make sure your coffee is built with the proper zipper option. Quality re-closable zippers help maintain freshness during consumption.
You all know these two options, as they are some of the most popular in the coffee industry. These reclosable options can be employed either independently or together in your coffee bean packaging. These choices are very popular, and have a traditional look, drawbacks include a) higher price points, b) they are not as airtight as a zipper.
Bags from PouchWorth work great for ground coffee, whole bean, roasted or green. We work with coffee shops, roasters, companies large and small. Give us a call to learn how we can help. Also if you're selling a few hundred pounds per week at local events like Farmer's Markets and the local grocery co-op, we're here for you. Our turnaround time on custom printed coffee bags is just 4-6 weeks!