Custom Cheese Packaging
Elizabeth
Cheese makes everything taste better. From pizza to pasta, salads to casseroles, folks are buying cheese in all shapes and sizes. And as society gets busier and busier, people are always looking for ways to save time. Shredded cheese, cheese sticks, and pre-sliced cheese all fit the bill. As sales of cheese increase, the number of players in the market also increases. How do you keep yourself ahead of the competition? Your packaging.
Pouchworth specializes in custom packaging solutions for small-to-medium producers of all kinds of cheese products. Almost all retail cheese makers use some sort of specialty packaging, but Pouchworth has advantages for you other packaging companies don't. Our pouches and bags are constructed from multi-layer barrier films. We mix and match from over 40 different barrier materials to custom build a package just for you. Our highly specialized technology protects your cheese from the two things that cause the most harm: moisture and oxygen. There is nothing worse than someone opening a bag of shredded cheese to find that it's gone moldy in the middle. With our pouches, there's no worry! You can choose from our stock sizes or create a custom package exactly to your specifications. Whatever you need, our packaging experts are there for you every step of the way.
And don't forget about custom printing your package! Give your brand a real competitive edge with our custom plate printing and digital printing services. Digital printing is ideal for short runs (1000 pieces or less) and plate printing is good for larger print runs (5,000 or more). Plate printing also offers printing effects such as Spot Gloss, Spot Matte and more. Need help with design? No problem! We have a team in-house that can assist you with art and design services if needed.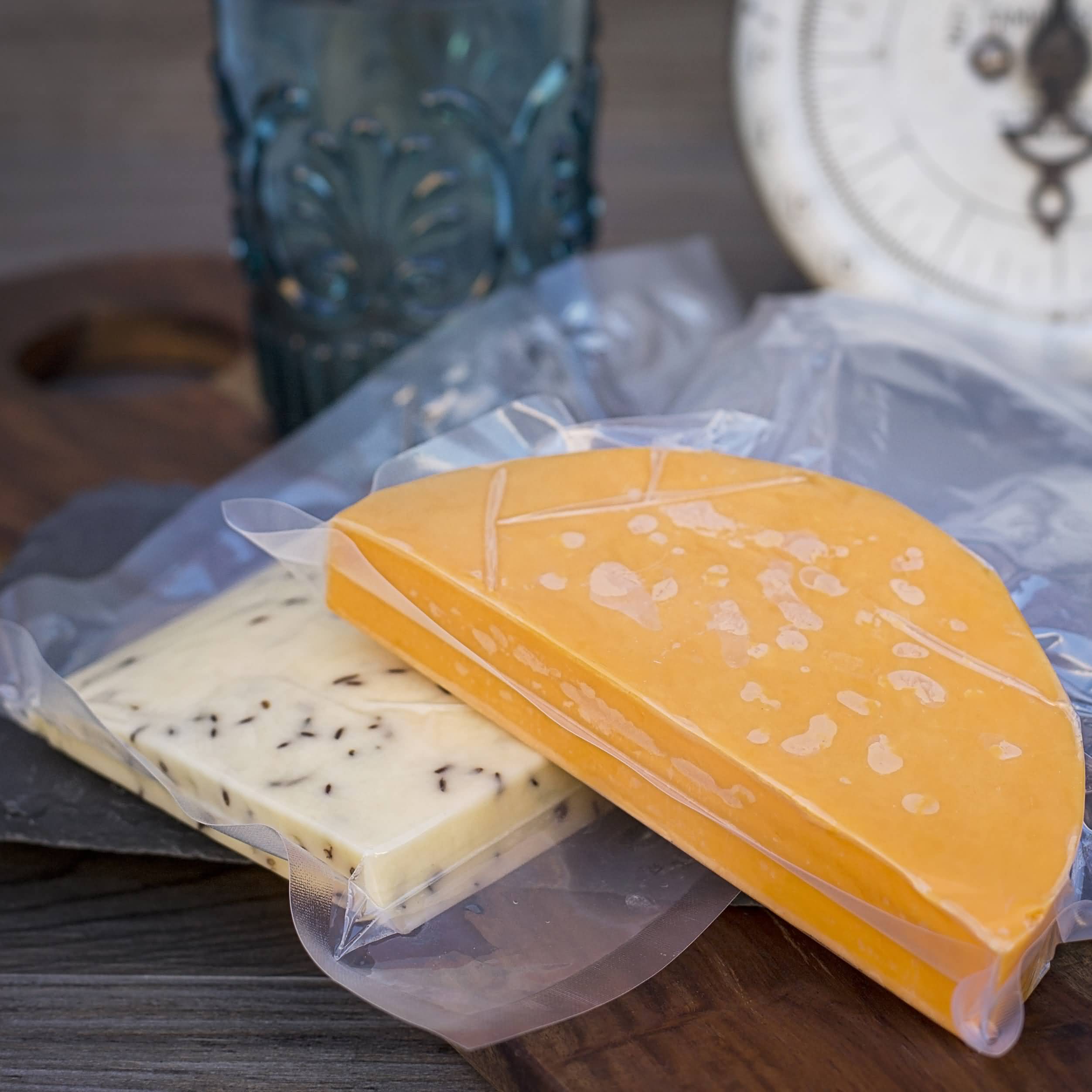 Cheese Packaging Bags
We produce Cheese Packaging Bags in various shapes and sizes which is suitable to your product packing material. Our Cheese Packaging Pouches are protecting it from moisture, mold and damage. We offer you with two choices, stock pouches and custom pouches. Custom Pouches made with logo configuration imprinted on your items. Cheese products are best to fresh consumed otherwise they easily spoil. The popular packaging styles for cheese in this industrial are stand up pouches, spout pouches, flat bottom bags, side gusset bags and many more. Accessories like hanging holes, tear notches, re-sealable zipper and transparent window can be added as per your request.
Zipper
Valve
Tear notches
Transparent window
We can pack all kinds of cheese like cubes, slice, liquid, chips. For more information, please contact our customer service block. We manufacture packaging bags for cheese in many forms. Such as solids to liquid forms. Our bags are able to preserve cheese products and this is done by removing unwanted air and moist from package. We include products which are most often packaged in our packaging bags such as:
Cubes of cheese
Grated cheese
Sliced cheese
Diced cheese
We assure that our cheese packaging solution would be the most reliable, durable, safe and cost efficient one for you.
Custom pouches for cheese snacks
Every member of our Pouchworth team makes it their mission to give you the highest level of customer service possible. In fact, our business is built on four basic beliefs:
Great Pricing: We have many different options for budgets of all sizes. And our prices aren't only competitive; we offer a 5% price match guarantee. So, you know you are getting great value for your money.
Fast Lead Times: We offer some of the fastest lead times in the business. For an unprinted custom-sized bag, you can have it in as little as 2 weeks. Expedited lead times for digital and plate printing come in at 4 weeks and 5 weeks respectively. We will get it to you when you need it.
Minimum Order Quantities: Our MOQ's are some of the lowest around – as little as 1000 pieces with a digital print job!
Human Connection: Pouchworth isn't a huge conglomerate just looking to earn a buck. We're a small business just like you. We take each and every customer seriously. When you call, an actual person located right here in the United States will answer the phone, eager to answer all of your questions. Your representative will walk you through the entire process, from beginning to end. For us, communication is of the utmost importance.
Whether you're looking for a new supplier or ready to make the jump into custom packaging, we are here to help. Making a custom bag is a complex process, but Pouchwork makes it easy. We know the packaging industry inside and out, and we never over promise just to earn your business. If we say it, we mean it. Give us a call today to get started!

Ready to get started? We would love to help!
Call

1-949-336-1541