Custom Dairy Packaging
Elizabeth
As we become more aware of environmental impacts, we are constantly searching for ways to decrease our carbon footprint, reduce waste and save energy. This has led to innovations in the packaging industry that have changed the way dairy products are brought to supermarkets in the United States and beyond. Retail dairy items such as yogurt, cheese, sour cream and other milk products are now available in a variety of flexible packaging design. From convenient squeeze-tube spout pouches, zip top flexible pouches and snap-closure hanging pouches, sky's the limit for both retail and institutional dairy product packaging.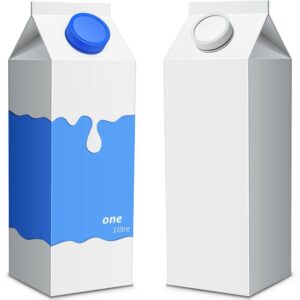 Packaging Solutions for the Dairy Market
Stand up pouches have a wide face and back, which makes them perfect for custom printing and/or applying a label. Stand up bags can be custom printed and available features heavy duty zippers, tear notches, hang holes, pour spouts, and valves. Once artwork is approved, your printed stand up bags for organic food products are ready in 3-4 weeks. Best of all, we have the unique ability to custom print as few as 1,000 stand up pouches, one of the lowest minimum runs in the world.
We also have stock bags available in several sizes and colors, which you can order directly from our online store. Some examples of dairy foods packaged effectively using stand up pouches include:
Have your dairy food product packaged with one of the fastest growing segments of the packaging industry, stand up pouches. Your product will stand up and stand out from your competition while staying fresher for longer. And retailers will have new opportunities to merchandise your product, which can only add to your bottom line.
Custom pouches for diary food snacks
Pouchworth specializes in custom packaging solutions for small-to-medium producers of all kinds of dairy products. Almost all retail dairy products use some sort of specialty packaging, but Pouchworth has advantages for you other packaging companies don't. Our pouches and bags are constructed from multi-layer barrier films. We mix and match from over 40 different barrier materials to custom build a package just for you. Our highly specialized technology protects your dairy from the three things that cause the most harm: moisture, oxygen and light. You can choose from our stock sizes or create a custom package exactly to your specifications. Whatever you need, our packaging experts are there for you every step of the way.
And don't forget about custom printing your package! Give your brand a real competitive edge with our custom plate printing and digital printing services. Digital printing is ideal for short runs (1000 pieces or less) and plate printing is good for larger print runs (5,000 or more). Plate printing also offers printing effects such as Spot Gloss, Spot Matte and more. Need help with design? No problem! We have a team in-house that can assist you with art and design services if needed.
Every member of our Pouchworth team makes it their mission to give you the highest level of customer service possible. In fact, our business is built on four basic beliefs:
Great Pricing: We have many different options for budgets of all sizes. And our prices aren't only competitive; we offer a 5% price match guarantee. So, you know you are getting great value for your money.
Fast Lead Times: We offer some of the fastest lead times in the business. For an unprinted custom-sized bag, you can have it in as little as 2 weeks. Expedited lead times for digital and plate printing come in at 4 weeks and 5 weeks respectively. We will get it to you when you need it.
Minimum Order Quantities: Our MOQ's are some of the lowest around – as little as 1000 pieces with a digital print job!
Human Connection: Pouchworth isn't a huge conglomerate just looking to earn a buck. We're a small business just like you. We take each and every customer seriously. When you call, an actual person located right here in the United States will answer the phone, eager to answer all of your questions. Your representative will walk you through the entire process, from beginning to end. For us, communication is of the utmost importance.
All in all, the advances in flexible barrier packaging help reduce waste, increase brand awareness and save you money. Making a custom bag is a complex process, but Pouchwork makes it easy. We know the packaging industry inside and out. We never over promise just to earn your business. If we say it, we mean it. Give us a call today.

Ready to get started? We would love to help!
Call

1-949-336-1541