Custom Jerky Packaging
Elizabeth
Custom Jerky Packaging
Jerky has unique requirements when it comes to food packaging. Almost all Jerky brand use custom packaging for their Jerky. Great custom jerky packaging bags should perform two main functions. First, packaging should market your brand well. Graphics, logos illustrations all help attract the consumer's eye. Second, and perhaps more importantly, custom jerky packaging should protect the jerky from oxidation, and maintain the freshness of the contents. There are three primary types of custom jerky packaging.
Types of custom jerky packaging:
1) Single use packaging: This type of food packaging is for individual sticks, or small portions of jerky. The most common configurations for this type of packaging is 2-seal and 3-seal lay flat pouches, bags and tubing.
2) Retail jerky packaging: Retail food packaging for jerky in standard weights like 4oz, 8oz, and 12oz , is often designed as bottom loading 3-seal bags. Custom printing and great barrier materials like our DuraClear-X or SilverDollar line of materials provides great barrier for your jerky product. Some higher-end brands use our TrueFoil material.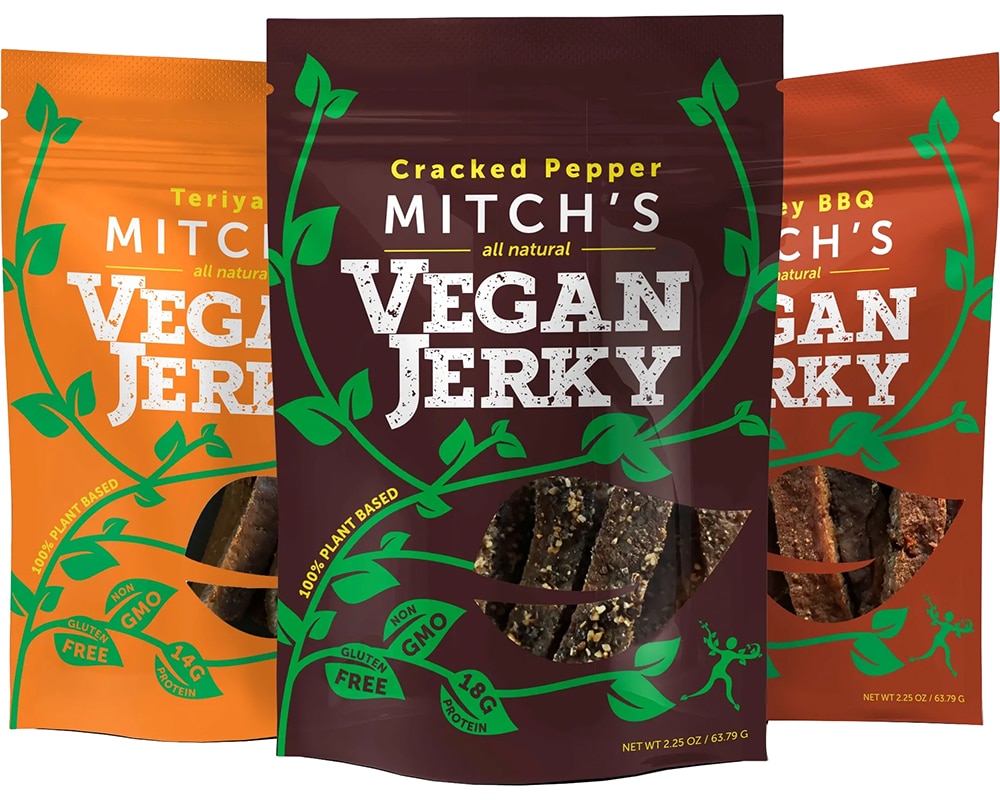 Food Packaging for Jerky: Where To Start
Beef Jerky has come a long way from merely existing as a quick snack for hikers and backpackers. It has grown into a red-hot industry with over one billion dollars in sales annually. Beef Jerky and other jerky meat has taken a huge bite out of the snack food market, and the players range from large, billion-dollar corporations to small businesses with only a few hundred thousand dollars in annual revenue. The rise of what is commonly called artisanal or premium jerky snacks is largely driven by millennials who are known to seek out snacks that are healthier and less processed. You've worked hard to create a quality product, but how do you make sure your recipe stands out amongst your competition? By making your food product beef jerky bags packaging work in your favor.
Pouchworth specializes in custom beef jerky packaging for small-to-medium businesses. While almost all brands of beef jerky bags use some sort of custom packaging, we have advantages for you that other packaging companies don't. Our flexible barrier packaging keeps your product safe from oxidation and maintains the freshness of the beef jerky inside. We have over 40 different barrier materials to work with, and our stand up pouches are created by laminating several layers together. By mixing and matching different barrier films we can create the perfect combination for your individual packaging needs. This approach extends the shelf-life of the jerky and maintains peak freshness for your customers. You can choose from one of our stock sizes or we can create a custom package sized exactly to your specifications. We even offer eco-friendly material options so your packaging can be recycled or compostable. Whatever you need, our packaging experts are there for you every step of the way ensuring you get a well-rounded, custom package that gives your jerky the maximum protection it deserves.
Best Barrier materials for custom snacks jerky products
Our beef jerky bags packaging typically uses one of three types of barrier materials. Most use our DuraClear-X film, which offers a good oxygen barrier at a moderate price point, or the Silver-Dollar barrier – a metalized material that adds some protection from outside light. If your jerky is a high-end premium brand, you may opt for TrueFoil, our highest barrier option. TrueFoil gives your product the highest possible protection, including the ultimate oxygen barrier with complete light blocking properties. Once you decide on the level of protection, we'll work with you on creating the perfect size pouch for your product. Adding extras such as a zipper top allows customers to portion out the jerky they want and store the rest for another day. The beef jerky bags zipper tops seal in freshness, so your jerky stays perfectly preserved.
Of course, you need more than high-quality packaging to stand out from your competition. If there is one thing you never want to do, it's underestimate the value of custom printing your packaging. It's more than promoting your brand, or your marketing message. You are solidifying your image. After all, you never get a second chance to make a first impression, right? This is especially true in the snack food market. Your customers are looking for beef jerky made with high-quality ingredients in small batches. They want to know it's a high-grade, healthy option. Your packaging should reflect those benefits. It doesn't matter whether your product sits on a shelf with many other brands or on a web page. As customers shop, they make snap judgements on what they see. You need to catch their eye and entice them to try your product.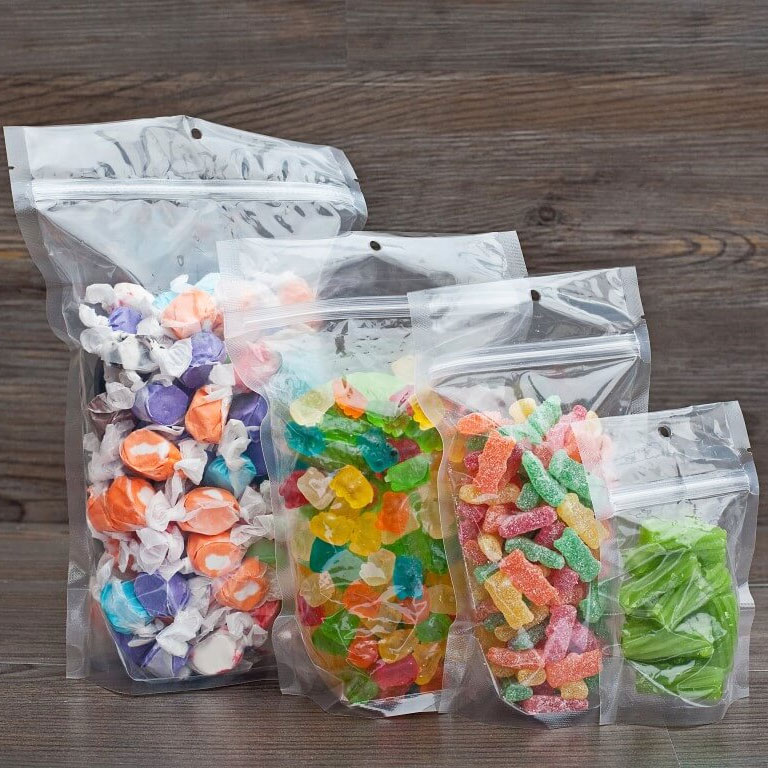 DURACLEAR-X
High barrier clear material
Printable
Good oxygen barrier
Moderate price point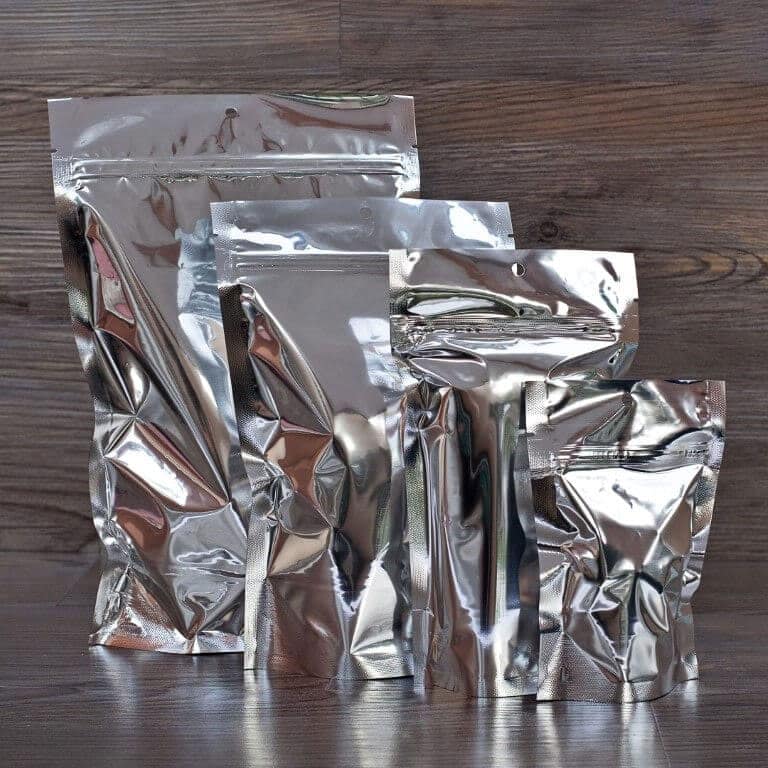 SILVERDOLLAR
Metalized Material
Printable
Good oxygen barrier
Provides a light barrier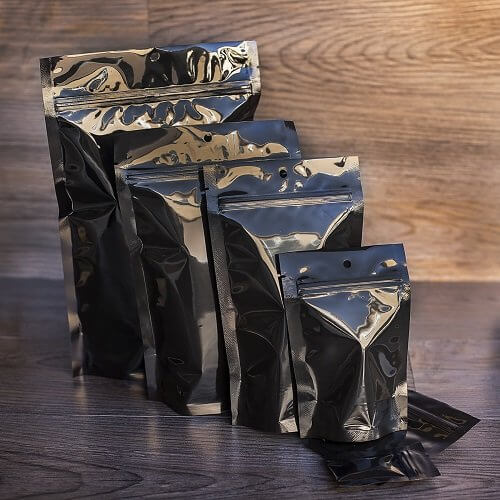 TRUEFOIL
Highest Barrier
Printable
Highest available barrier
Complete light barrier
Keeping your Product Fresh: Jerky Pouch Bags Printing Options
Pouchworth offers both custom plate printing and digital printing options based on your individual needs. Digital printing is ideal for short runs, split runs or trial offers and is an excellent option for when you have different jerky flavors or recipes that require smaller quantities. The minimum order quantity for digital printing is 1000 pieces or less. Plate printing is our most economical option, good for larger print runs (5,000 or more). It offers you our lowest per-unit printing cost and works with any material. Plate printing also gives you the full range of printing effects such as Spot Gloss, Spot Matte and more. Aside from printing, Pouchworth can also help you with art services if you need it. Contact us for more details on design help.
Custom pouches for packaged meat jerky snacks
We here at Pouchworth know that you have many options when it comes to flexible packaging for your jerky bags. Every member of our team makes it their mission to give you the highest level of customer service possible. In fact, our business is built on four basic beliefs:
Great Pricing: We have many different options for budgets of all sizes. And our prices aren't only competitive; we offer a 5% price match guarantee. So, you know you are getting great value for your money.
Fast Lead Times: We offer some of the fastest lead times in the business. For an unprinted custom-sized bag, you can have it in as little as 2 weeks. Expedited lead times for digital and plate printing come in at 4 weeks and 5 weeks respectively. We will get it to you when you need it.
Minimum Order Quantities: Our MOQ's are some of the lowest around – as little as 1000 pieces with a digital print job!
Human Connection: Pouchworth isn't a huge conglomerate just looking to earn a buck. We're a small business just like you. We take each and every customer seriously. When you call, an actual person located right here in the United States will answer the phone, eager to answer all of your questions. Your representative will walk you through the entire process, from beginning to end. For us, communication is of the utmost importance.
The bottom line is that your custom jerky packaging will distinguish you from the competition. It'll upgrade your image, promote your message and get you noticed. And getting noticed increases sales. Whether you are looking for a new supplier or ready to make the jump into custom packaging, we are here to help. Making a custom bag is a complex process, but Pouchworth makes it easy. We know the packaging industry inside and out, and we never over-promise just to earn your business. If we say it, we mean it. Give us a call today to get started!
Beef Jerky Storage Pouches

Ready to get started? We would love to help!
Call

1-949-336-1541