Custom Organic Food Packaging
Elizabeth
Custom Organic Food Packaging
Organic food is where it's at nowadays. Everywhere you look people are more aware of what's in their food. Not only do they want to know the ingredients, they want to know where the ingredients come from. How were they produced, are they natural or artificial? And most important of all, what chemicals do they have to worry about? This is the motivation behind the growth of the organic food market in the United States. When a food product is labeled organic, shoppers know that it has to abide by strict USDA guidelines regarding crop health, pest management and more. However, there is also a big psychological factor involved in an organic purchase. Buying organic makes people feel good about themselves. They are being healthy and proactive. They're secure in warm feelings of feeding their family high-quality, nutritious food. This makes packaging needs for organic food products vitally important. Not only should your packaging elevate you above your competition, it also needs to live up to the story people tell themselves when buying organic products.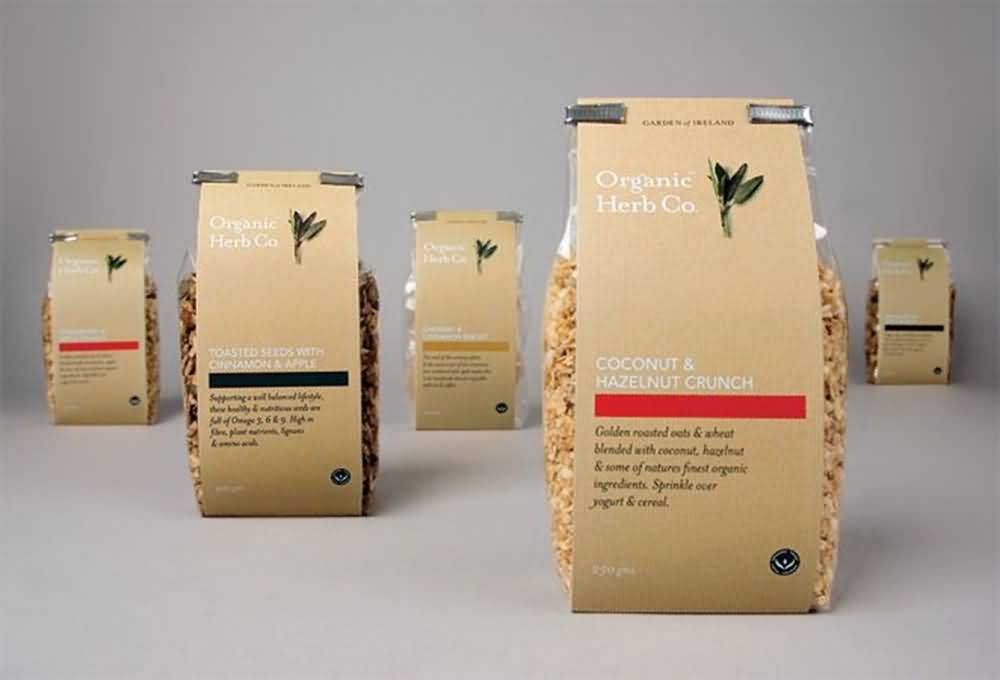 Custom Organic Food Packaging Trends
Stand up pouches have a wide face and back, which makes them perfect for custom printing and/or applying a label. Stand up bags can be custom printed and available features heavy duty zippers, tear notches, hang holes, pour spouts, and valves. Once artwork is approved, your printed stand up bags for organic food products are ready in 3-4 weeks. Best of all, we have the unique ability to custom print as few as 1,000 stand up pouches, one of the lowest minimum runs in the world.
We also have stock bags available in several sizes and colors, which you can order directly from our online store. Some examples of organic foods packaged effectively using stand up pouches include:
Coffee
Cheese
Salsa
Fruits
Have your organic food product packaged with one of the fastest growing segments of the packaging industry, stand up pouches. Your product will stand up and stand out from your competition while staying fresher for longer. And retailers will have new opportunities to merchandise your product, which can only add to your bottom line.
Organic food pouches | Organic Foods
We produce Organic Food Packaging Bags in various shapes and sizes which is suitable to your product packing material. Our Organic Food Packaging Pouches are protecting it from moisture, mold and damage. We offer you with two choices, stock pouches and custom pouches. Custom Pouches made with logo configuration imprinted on your items. Organic food products are best to fresh consumed otherwise they easily spoil. The popular packaging styles for organic food in this industrial are stand up pouches, flat bottom bags, side gusset bags and many more. Accessories like hanging holes, tear notches, re-sealable zipper and transparent window can be added as per your request.
Zipper
Valve
Tear notches
Transparent window
For more information, please contact our customer service block. We manufacture packaging bags for organic in many forms. Our bags are able to preserve organic food products and this is done by removing unwanted air and moist from package.
Custom pouches for organic food snacks
Pouchworth understands this distinction. We specialize in custom packaging for small-to-medium producers of organic food products. Organic foods don't have artificial preservatives or added chemicals to keep it fresh. Highly specialized technology is required to protect package contents from moisture, light and oxygen. Our pouches and bags are constructed from multi-layer barrier films. We mix and match from over 40 different barrier materials to custom build a package unique to your product. Choose from one of our stock sizes or create a custom package exactly to your specifications. We even offer eco-friendly material options so your packaging can be recycled or compostable, which is highly desirable in the organic market. Whatever you need, our packaging experts are there for you every step of the way.
Once the package itself is finalized, it's time to think about printing. Custom printing is more than simply promoting your brand. As customers shop, they make instant judgements on what they see. It's vitally important that your package catch the eye. That's why Pouchworth offers both custom plate printing and digital printing services. Digital printing is ideal for short runs (1000 pieces or less) or split runs, such as different flavors of the same item. Plate printing is good for larger print runs (5,000 or more) and offers printing effects such as Spot Gloss, Spot Matte and more. Need help with design? No problem! We have a team in-house that can assist you with art and design services if needed.
Every member of our Pouchworth team makes it their mission to give you the highest level of customer service possible. In fact, our business is built on four basic beliefs:
Great Pricing: We have many different options for budgets of all sizes. And our prices aren't only competitive; we offer a 5% price match guarantee. So, you know you are getting great value for your money.
Fast Lead Times: We offer some of the fastest lead times in the business. For an unprinted custom-sized bag, you can have it in as little as 2 weeks. Expedited lead times for digital and plate printing come in at 4 weeks and 5 weeks respectively. We will get it to you when you need it.
Minimum Order Quantities: Our MOQ's are some of the lowest around – as little as 1000 pieces with a digital print job!
Human Connection: Pouchworth isn't a huge conglomerate just looking to earn a buck. We're a small business just like you. We take each and every customer seriously. When you call, an actual person located right here in the United States will answer the phone, eager to answer all of your questions. Your representative will walk you through the entire process, from beginning to end. For us, communication is of the utmost importance.
The bottom line is that your organic food packaging will distinguish you from the competition. Whether you are looking for a new supplier or ready to make the jump into custom packaging, we are here to help. Making a custom bag is a complex process, but Pouchwork makes it easy. Give us a call today to get started!

Ready to get started? We would love to help!
Call

1-949-336-1541