Custom Pouch Packaging
Jecris Gallardo
Custom Pouch Packaging
Custom pouch packaging is everywhere. Next time you're out shopping, take a look around. Many companies are moving away from the older technology of bottles and boxes and switching to custom packaging. Pouches are used for anything you can think of: food, liquids, gels, herbs, pharmaceuticals, industrial parts and more. They offer many advantages over other types of packaging such as:
Cost savings – you can often save 50% on the cost of a pouch over a bottle.
Environmentally Friendly – pouches use up to 95% less material than traditional packaging methods.
Customizable – any size, any configuration you want you can get.
Convenient – customers love them for their ease of use
Space – less material means less bulk. Reduce the size of your inventory, shipping and storage costs.
Printable – Full printing options including 4-color graphics, photographs and more.
Printing your packaging is the easiest way to differentiate yourself from your competition. We use both custom plate printing and digital printing options, depending on the size of your order. Our digital printing technology allows us to offer full color printing options on smaller orders. If you reach the recommended quantity of 5,000 pieces, you can take advantage of our custom plate printing. Plate printing will give you the lowest cost per-unit and works on any material. You can also take advantage of special features such as Spot Gloss, Spot Matte and more. The artwork on your packaging goes a long way in helping customers make their buying decision, both online and in person.
Material
Pouches do an excellent job protecting your products from moisture, oxygen, contamination and decay. Below are some of our more popular base products. Each brand has a mix of different barrier material options that can be layered to create a packaging solution unique to your needs.
DuraClear
Our DuraClear pouches and bags offer a clear package allowing the contents to shine through. Popular applications for these bags include snacks, powders, cheese, candy and more. Depending on the materials chosen, DuraClear exhibits excellent barrier protection with a classic feel. It's FDA approved as well as great for industrial packaging needs. Whether you choose printed or unprinted, this family is a great economical choice.
Silver Dollar
This line of Metalized PET films is a versatile workhorse that is free of BPA, TSE, sulfer and phthalates. It's undergone strict testing to meet government regulations such as CA Toxins in Packaging, R.E.A.C.H. and more. Made by coating of metallic thin layers on poly films, the bags sport a reflective, silver look. Excellent for many applications such as pet food, bird seed, cookies & candy, tea and coffee as well as industrial applications like fertilizers and detergents.
TrueFoil
These are flexible foil barrier packages. This pouch is great for many configurations including stand up, lay flat, spout packages and more. These foil pouches are an amazing barrier to oxygen and water by combining the barrier protection of Aluminum with the strength of Mylar. Available in over 12 configurations with a host of compliance certifications, you can use this is almost any purpose, including food, supplements, livestock products and even military applications.
Kraft Mylar
This pouch offers you the benefits of mylar barrier materials with a kraft paper exterior. There are several options here to meet different applications, including uncoated kraft with encapsulated foil or high strength nylon reinforced kraft. You have 8 printing options available on any uncoated kraft pouch, which is important for branding purposes. The kraft paper exterior gives your product a natural, down-to-earth look. Commonly used in the packaging of popcorn, nuts, dried goods, cannabis, tea, coffee and more.
Mylar
Our custom printed mylar bags and packaging are one of our best-selling products. They protect against many environmental factors including heat, light, moisture, oxygen and rodents and are FDA and USDA compliant for safe food contact. If you're looking for unprinted bags, choose from eight color options in six different standard sizes. If you want to take advantage of printing – sky's the limit! Our in-house art department will help you get everything set up. It's an advertising opportunity you don't want to miss out on!
Configurations
The manufacturing process used in making pouches allows for a wide range of customized shapes and sizes. Different products benefit from different configurations based on the needs of the manufacturer and the customer. Below are some popular options.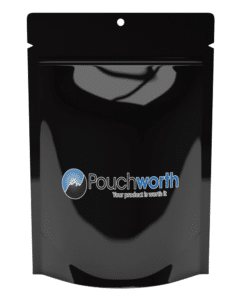 Stand up Pouches
This is one of the most popular bag configurations we make. This bag offers a heat sealable top, side seals and a gusseted bottom, allowing it to easily stand up on a shelf. Add a zipper top for reusability and a hang hole for retail flexibility and you have a winner. Mix and match from 40 films or even combine materials. Looking for a silver or black film with a clear front? You got it.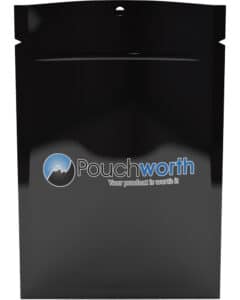 2 and 3 Seal Pouches
If your product doesn't need to sit on a shelf, these economical choices may be just what you're looking for. They are simple, straightforward designs that usually fit right into your current product specifications. Just as the name implies, 2-seal pouches are sealed on each side with a folded bottom, and are the basis for all Electrostatic Discharge shielding bags. The more popular 3-seal bags are sealed on all three sides, allowing the top to stay open for filling.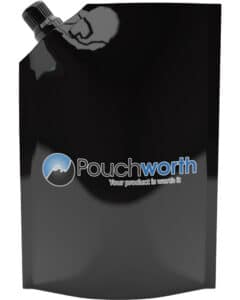 Liquid Spout Pouches
These became really popular several years ago for on-the-go products such as drink mixes, yogurts and the like. The cost savings over other liquid packaging such as jars and bottles is substantial, and the gusseted bottom allows it to stand up nicely so your product pops on store shelves.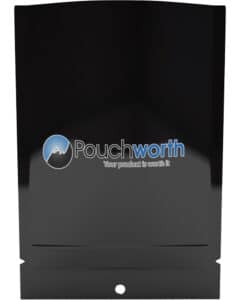 Tamper Evident Pouches
A very popular packaging design for food products, the tops of these pouches are sealed above the zipper during creation and then filled from the bottom. This is a preferred configuration by the FDA because food crumbs don't get caught in the zipper. It also gives customers piece of mind knowing that the product inside is safe from any malicious intent.
If you aren't in need of a custom bag, we have a large selection of stock pouches available in all of the above materials. We have the experience and the know-how to get your business exactly what it needs. It might sound complicated, but we know how to make the process easy. Give us a call today!

Ready to get started? We would love to help!
Call

1-949-336-1541