Custom Retort Packaging
Jecris Gallardo
Custom Retort Packaging
In today's busy society, ready-to-eat (RTE) food has become a booming business. Retort packaging, also known as retortable packaging, has been popular overseas for some time now. In recent years, food manufacturers in the United States have realized the enormous cost savings of retort packaging over traditional canned food. If this is a market you are looking to enter, it's important to find a packaging supplier that knows the ins and outs of how to package RTE food properly. Pouchworth does nothing but specialize in flexible barrier pouches and our specialists are here to walk you through the process.
Our expertise lies in custom retort packaging for small-to-medium size businesses. We offer over 40 different barrier materials to choose from, providing your RTE food the maximum protection it deserves. Our pouches are made from a laminate of flexible plastic and metal foils. We custom layer the barrier materials to shield the product inside from light, oxygen and moisture. This maximizes the shelf-life of the food while ensuring peak performance for your customer. We have stock sizes available or we can create a custom package sized exactly to your specifications.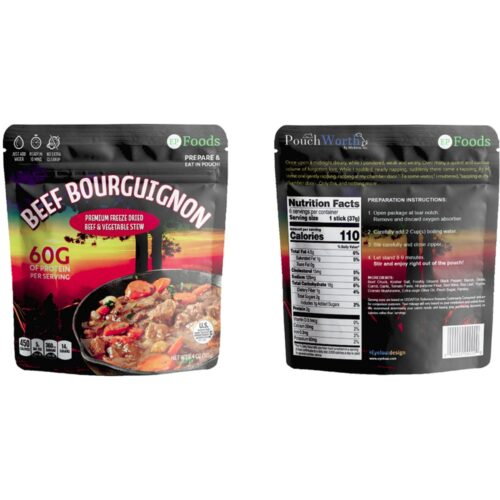 As a player in the RTE food market, you need more than high-quality packaging to stand out from your competition. After all, you never get a second chance to make a first impression! That's why you never want to underestimate the value of custom printing your package. It's more than just promoting your brand; the impression you make about the food inside can make or break your conversion rates. You know that as customers shop, they make instant judgements on what they see. Pouchworth offers the highest-quality custom plate printing and digital printing options around. Digital printing is ideal for short runs, split runs or trial offers (minimum order for digital printing is only 1000 pieces). Plate printing is best for larger print runs (5000 or more) and gives you the lowest per-unit printing cost. It works with any material and offers the full range of printing effects such as Spot Gloss, Spot Matte and more. We can also help with art services if you need it.
We know that you have many options to choose from when shopping for packaging. Our team prides itself on exceptional customer service. In fact, our business is built on four basic beliefs:
Great Pricing: Our prices aren't only competitive; we offer a 5% price match guarantee. So you know you are getting great value for your money.
Fast Lead Times: We offer some of the fastest lead times in the business. For an unprinted custom-sized bag, you can have it in as little as 2 weeks. Expedited lead times for digital and plate printing come in at 4 weeks and 5 weeks respectively. We will get it to you when you need it.
Minimum Order Quantities: Our MOQ's are some of the lowest around, as little as 1000 pieces with a digital print job!
Human Connection: Pouchworth isn't a huge conglomerate just looking to earn a buck. We're a small business just like you. We take each and every customer seriously. When you call, an actual person located right here in the United States will answer the phone, eager to answer all of your question
The bottom line is that our retort packaging will distinguish you from the competition. It will upgrade your image and increase your sales. Making a custom barrier pouch is a complex process, but Pouchworth makes it easy. Give us a call today and get started!
Different types of retort pouches

Ready to get started? We would love to help!
Call

1-949-336-1541