Custom Tea Packaging
Elizabeth
Custom Tea Packaging
For most people that drink it on a regular basis, teas is more than a beverage…it's an experience. The ritual surrounding tea goes back centuries. To some it's a calming tincture that eases anxiety. To others, its medicinal properties are paramount. Some just enjoy the flavor. In any case, the tea market has exploded over the last 10 years, and many small businesses are finding success using their own unique blends. With so many brands on shelves and available online, it's imperative that your tea stands out amongst your competition. You don't want to get lost in the sea of tea! One of the best ways to differentiate yourself is with our custom printed tea packaging. From flexible packaging to compostable stand up pouches we got it cover.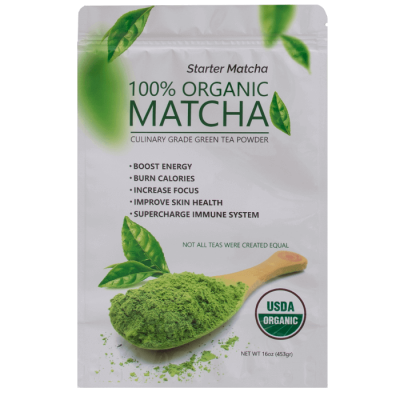 Marketing Meet Tea Bags Packaging
Pouchworth specializes in custom tea packaging for small-to-medium company businesses. We know there are three things that ruin tea faster than you can heat water – light, moisture and odors from surrounding sources (such as food or spices). Our flexible barrier or compostable stand up packaging keeps your product free from all of these potential pitfalls, extending shelf-life and ensuring peak freshness for your customers that will surely makes you product stand out. Our pouches are made up of multi-layer barrier films – and we have over 40 different barrier materials to work with. That means we can mix and match different barrier films and laminate them together to create the perfect combination for your individual product. You can choose from one of our stock sizes or we can create a custom package sized exactly to your specifications. We even offer eco-friendly material options so your packaging can be recycled or compostable stand up pouches. Whatever you need, our packaging experts are there for you every step of the way ensuring you get a well-rounded, custom package that gives your tea the maximum protection it deserves.
Stand up pouches have many advantages over glass jars or paper boxes. For one thing, it's not easy (and often impossible), to keep glass and cardboard airtight. With flexible barrier or compostable stand up pouches, you create a sealed environment inside the package, ensuring your tea maintains its freshness. Pouches are also much easier to customize, giving you the opportunity to create a completely unique size package. Adding a zipper top allows your customers to portion out the tea they need and store the rest for another day. Our zipper tops seal in freshness, so your tea stays perfectly preserved. You've worked hard to create your niche in the tea market – it only makes sense to give it the packaging it deserves!
The quality of your packaging is a reflection of your Tea to stand out!
Of course, you need more than high-quality packaging to stand out from your competition. If there is one thing you never want to do, it's underestimate the value of custom printing your packaging. It's more than promoting your brand, or your marketing message. You are solidifying your image. After all, you never get a second chance to make a first impression, right? This is especially true in the tea market. Serious tea drinkers are all about ritual and meaning. They like how drinking tea makes them feel in addition to how it tastes. Your packaging should reflect that. It doesn't matter whether you sell primarily in a brick-and-mortar store or online. As customers shop, they make instant judgements on what they see. You want to catch their eye and entice them to try your product to stand out.
Pouchworth offers both custom plate printing and digital printing options based on your individual needs. Digital printing is ideal for short runs, split runs or trial offers and is an excellent option for when you have different types of tea that require smaller quantities. The minimum order quantity for digital printing is 1000 pieces or less.
Plate printing is our most economical option, good for larger print runs (5,000 or more). It offers you our lowest per-unit printing cost and works with any material. Plate printing also gives you the full range of printing effects such as Spot Gloss, Spot Matte, Compostable stand up pouch and more. Aside from printing, Pouchworth can also help you with art services if you need it. Contact us for more details on design help.
Custom Tea Pouches Can Help with That.
We here at Pouchworth know that you have many options when it comes to flexible packaging. Every member of our team makes it their mission to give you the highest level of customer service possible. In fact, our business is built on four basic beliefs:
Great Pricing: We have many different options for budgets of all materials, sizes and configuration such as stand up pouch, compostable stand up pouch etc. And our prices aren't only competitive; we offer a 5% price match guarantee. So, you know you are getting great value for your money.
Fast Lead Times: We offer some of the fastest lead times in the business. For an unprinted custom-sized bag, you can have it in as little as 2 weeks. Expedited lead times for digital and plate printing come in at 4 weeks and 5 weeks respectively. We will get it to you when you need it.
Minimum Order Quantities: Our MOQ's are some of the lowest around – as little as 1000 pieces with a digital print job!
Human Connection: Pouchworth company isn't a huge conglomerate just looking to earn a buck. We're a small business just like you. We take each and every customer seriously. When you call, an actual person located right here in the United States will answer the phone, eager to answer all of your questions. Your representative will walk you through the entire process, from beginning to end. For us, communication is of the utmost importance.
Quality Custom Tea Packaging Fit Your Product Needs.
The bottom line is that your custom tea packaging will distinguish you from the competition. It will upgrade your image, promote your message and get you noticed. And getting noticed will increase your sales. Whether you are looking for a new supplier or looking to make the jump into custom packaging, we are here to help. Making a custom bag is a complex process, but Pouchworth makes it easy to make your product stand out. Even we are small company we know the packaging industry inside and out, and we will never over-promise something just to earn your business. If we say it, we mean it. Give us a call today to get started!
IT'S A TEA INNOVATION, TEA PACKAGING OPTION.
Stand Up Tea Pouches
One of our customer's most popular bag configuration is the stand up pouch. The name says it all, as these bags are outfitted with a bottom gusset, that when deployed, allows the pouch to "stand up" on a shelf in a store. Stand Up tea packaging can be fully customised in terms of shape and design giving your product an extra edge on the shelves!
Eco Friendly Compostable Stand Up Tea Pouches
Our compostable stand up packaging options include a selection of materials to build your bag out of that are industrially and/or ambient (home) compostable. Many of our 5000 series of materials are compostable yet also provide the barrier you need to protect your product and provide shelf stability. We have FCN approved compostable packaging solutions that will compost under ambient conditions, are made of renewable resources. These materials truly are the future of barrier technology. We are always partnering with film makers to offer our customers the newest innovations in compostable stand up barriers, made of bio-plastics such as Sugarcane, corn, and casava.

Ready to get started? We would love to help!
Call

1-949-336-1541