SilverDollar & GoldMetal
Our 2000 series of films we call SilverDollar are Metalized polyethylene terephthalate (PET) films also known as MET/PET or VMPET. They are polymeric material made by the coating of metallic thin layers on polymer films. The coating gives a reflective surface and a glowy look to the material while enhancing the barrier properties of the base polymer film extrusion. The popular metal used for coating is Aluminum. However, some other metals that can also be used for this purpose such as Chromium and Nickel.
The key features of our 2000 series Metallized PETs include excellent gloss, good handling properties and good barrier properties. Metalized PET film generally has an optical density that is within the range of 1.4 to 3.0, metal/film bond of 100 – 150 gm/25mm for plain side and 130 – 180gm/25mm for corona side.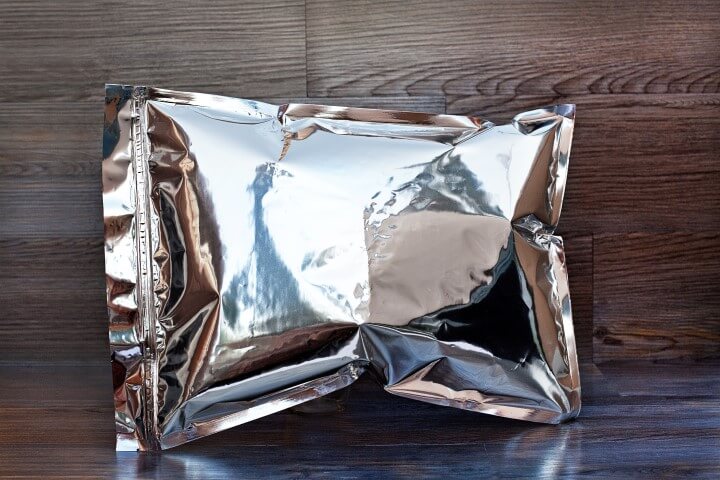 2,000 Series VMPET Material Structures
| | | |
| --- | --- | --- |
| Material Code | Name | Description |
| #2001 | SilverDollar | Silver Metalized PET |
| #2002 | GoldMetal | Gold Metalized Pet |
| #2003 | SilverDollar-R | Silver Metalized PET 4mil |
| #2004 | SilverDollar-RB | BOPP Metalized PET |
| #2005 | SilverDollar-REX | BOPP/EXPE/MPET/PE |
SilverDollar Application Examples
Metalized PET film is used heavily for both decorative and industrial applications.  It is a key component for making decorative materials because it gives shiny and eye-catching appearance to the look of products, which makes it be perfect for graphic arts and labels. It can be used to make a gift and flower wraps for presentation. In addition, it is a customizable component. That is, it can be modified to fit specifications. Metalized PET film is also used in various industrial applications. It is best used as a packaging material due to the protection it offers to products and its durability. As such, it is vastly used in most packaging industries that produces food and beverages, pharmaceutical and personal care.
Snacks & Chips
Cookies, Candy
Dried Goods
Spices Salt, Sugar
Dried Goods
Flour
Pet Food
Bird Seed
Cannabis
Hops
Pastes
Cereals
Milk Powder Protein Powder
yogurt
Tea & Coffee
Cosmetics
Wet Wipes
Gift Bags
Metalized PET Stock Options Available
Pouchworth sells a selection of pre-made Metalized PET pouches as part of our Silver Dollar and GoldMetal line of stock pouches, we also offer this film for use with custom pouching where our customers can design any size metalized PET pouch they want in multiple configurations. We also sell MPET in Tubing, Roll stock and Flow Wrap designs. Contact Us to discuss your needs.
Why is our metalized 2000 series a great option?
Foods and drugs manufactured needs to be adequately preserved to enable them function properly in the body system. For this to be achieved, the products must be protected from being oxidized by water and oxygen. The protection can be built on the packaging material that houses these products. Metalized PET film reduces the permeability of water and oxygen due to the metallic coating on it. It gives needed strength, compatibility and stability properties needed to protect products. Furthermore, it has an emissivity that is as low as 0.05, thereby guarding products from thermal degradation. The controlled permeation enables foods and drugs to maintain their qualities.
Other quality it gives to food and pharmaceutical products as a packaging material includes:
Sealability through the heat welding of the LLDPE substrate
Abrasive resistance
Tear strength
Metalizing surface energy
Light and chemical barrier
Protection against surface defects
Technical characteristics of metalized PET films
Listed below are the major technical characteristics of metalized PET films:
It has low electrostatic charge: Charges that are meant to generate on metal surfaces are reflected. This will, in turn, reduce the development of electrostatic charges and thermal effect on the surface.
It has high tensile strength with brilliant clarity: The surface quality also determines the tensile strength of a material, especially metal foils.
It is water resistant: the Glossy surface is generally known to be good water repellent. As such, Metalized PET film can resist the penetration of water.
Develop Your Packaging 949-336-1541