| | | |
| --- | --- | --- |
| Dimensions (O.D.) | Water | Herb |
| Lay Flat 2x3 | Teaspoon | less than gram |
| Lay Flat 3.5x4.5 | 1 oz | up 1/8th | 3.5oz |
| Stand Up Pouch 4x6x2.5 | 5 oz | 1/4 oz | 7g |
| Stand Up Pouch 5x8.5x3 | 16 oz | 1/2 oz | 14g |
| Stand Up Pouch 6x9.5x3.5 | 32 oz | 1 oz |28g |
| Stand Up Pouch 7.5x11.5x3.5 | 64 oz | 4 oz |
| Stand Up Pouch 14x17x6.5 | 3 gallons | 1 pound - wide |
DuraClear - BoPET/LLDPE Clear Advantages
Our DuraClear pouches are made from an amazing clear barrier film, which has great weight and cost to barrier ratios. DuraClear is made from a lamination of BoPet and LLDPE to exhibit technical characteristics essential to an excellent food-grade packaging. This clear poly-laminated barrier film has a 3mil thickness with an exterior film of 48ga PET (Nylon – Mylar) and an interior film of LLDPE.
Durability. DuraClear's use of BoPET with a high nylon content makes it a flexible, strong and durable barrier film, and provides a potent barrier in comparison to its weight and price, making it suitable for many applications. Characteristics of Mylar retained in the laminated film includes
Clarity. Despite having two layers of different polymers, DuraClear exhibit crystal clear façade, with high clarity and gloss due to polymeric properties of both Mylar and LLDPE, to quickly discern the contents without having to expose the package up while exuding a presentable and aesthetic packaging.
Heat Sealing. Due to a laminated LLDPE interior, besides demonstrating a high tensile and impact strength, DuraClear also exhibits outstanding heat sealability. Also, the BoPET exterior allows an excellent UV resistance and decent retention of the packaging's physical properties over a wide temperature range.
USA-manufactured. DuraClear is manufactured using the latest equipment and undergone a comprehensive quality assurance to conform to state-regulated processes and standard manufacturing procedures, making sure the products are free of toxins – for instance, BPA, TSE and sulfur, and Phthalates.
Outstanding dimensional stability, good surface and barrier properties.
Heat Sealable + Tear Resistant
Moisture Proof + Smell Proof
High Clarity
Insects, fungi, mold, and mildew resistant.
Good flatness and coefficient of friction for machine loading
BPA Free
TSE and Sulfer Free
Pthalates free
California Toxins in Packaging Compliant
Prop 65 Compliant
FDA Food Grade
CA Toxins in Packaging Compliant
R.E.A.C.H and RoHS Compliant
Kosher
DuraClear is available in 6 stock sizes that are great for a number uses. It is also available in for custom runs. and can be used for making a 2-seal pouch, 3-seal pouch, and stand up pouch. Furthermore, it is also available in tubing and roll stock configurations, among others.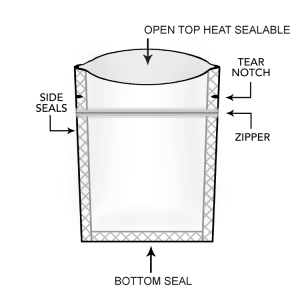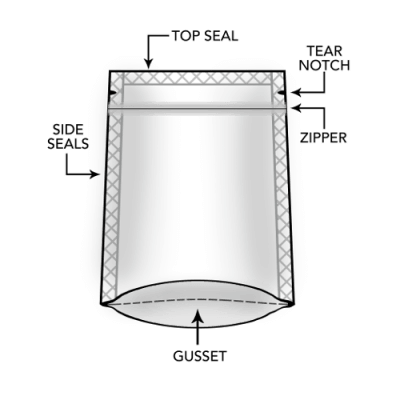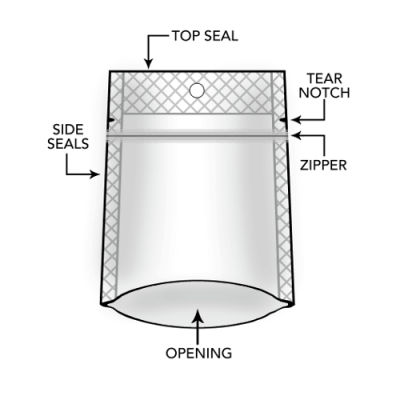 Through our custom bag program, we can make any custom size you might need from 5,000 bags or more, you can also have Duraclear printed with any logos or graphics you might want, contact us to discuss!
| | | | | | |
| --- | --- | --- | --- | --- | --- |
| WxLxG (O.D.) | Configuration | Zipper | Hang-Hole | Tear Notch | Heat Sealable |
| 2″x3″ | 3-Seal | Yes | No | Yes | Yes |
| 3.5″x4.5″ | 3-Seal | Yes | Yes | Yes | Yes |
| 4″x6″x2.5″ | Stand Up Pouch | Yes | Yes | Yes | Yes |
| 5″x8.5″x3″ | Stand Up Pouch | Yes | Yes | Yes | Yes |
| 6″x9.5″x3.5″ | Stand Up Pouch | Yes | Yes | Yes | Yes |
| 7.5″x11.5″x3.5″ | Stand Up Pouch | Yes | Yes | Yes | Yes |
How to choose the right size SUP for your product

DuraClear provides great oxygen barrier
Our DuraClear film is clear Mylar style barrier at its best (read more). It is a clear film yet provides an excellent barrier with a classic feel. Due to its complete sealability, DuraCLear reigns in odor containment. OTR (Oxygen transmission rate) amounted to 7.8 cc/100 sq. in/24 hrs., thus exhibiting a high resistance for oxidation and extremely slow aroma seepage from the micro-perforation. The OTR of DuraClear is quantified through this film using the method described in ASTM-1434-66.
DuraClear Lamination Structure
The top layer is a BoPET film (biaxially-oriented polyethylene terephthalate), commonly known as Mylar, or Nylon film for durability and safe external film printing. The second layer is a LLDPE (linear low-density polyethylene) film that provides added durability and enhanced barrier protection properties.
DuraClear #1101 Technical Specifications
Having a polyethylene film laminated with an LLDPE film, DuraClear exhibits an extensive plastic zone. The extensive plastic zone is produced as a result of the single layer polyethylene film. This special yield zone does not appear when polyethylene is laminated with LLDPE or any other polymer films.
| | | |
| --- | --- | --- |
| Specification | Measure | Value |
| Caliper | mils | 3.0 |
| Yield | sq.In/LB | 10,300 |
| Moisture Transmission rate (MVTR) | gms/100 sq. in./24h | .9 |
| Oxygen Transmission Rate (OTR) | cc/100 sq. in./24h | 5 |
| Burst Mullen | PSI | 55 |
| ASTM D-882 Tensile MD | lbs. @ Break | 18 |
| ASTM D-882 Tensile XMD | lbs. @ Break | 21 |
| ASTM 689 Tear MD | lbs. @ Break | 64 |
| ASTM 689 Tear XMD | lbs. @ Break | 64 |
DuraClear Moisture Barrier
Due to the ability of this bag to be completely heat sealed, moisture control is reinforced, providing excellent insect, mold, fungi and mildew resistance. DuraClear has a average 0.4 gms/100sq. in./24hrs moisture vapor transmission rate (MVTR), or water vapor transmission rate (WVTR), as measured using Mocon benchmark equipment. This value indicates the measure of the passage of water vapor through a substance. Some products needing a critical moisture control for packaging would definitely benefit from DuraClear.