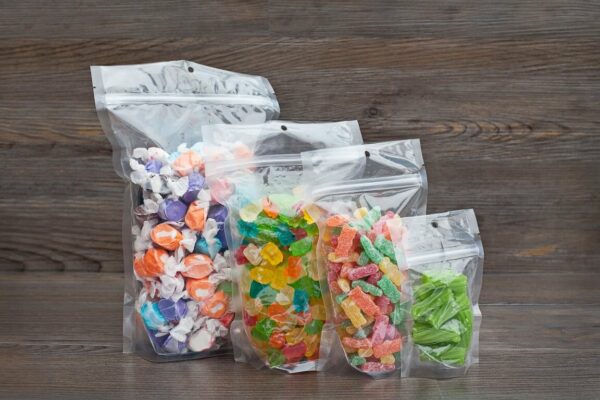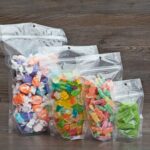 DuraClear Lay Flat & Stand Up Pouches Food Storage Ziplock Mylar Bags
$10.00 – $259.00
A great high barrier mylar bags lay flat and stand up pouches for a couple of pills, or other tiny item. It features food storage a high nylon content making it very durable, and a superior mylar ziplock barrier packaging.
2″x3″ Features: Re-closable Zipper and a Hang Hole
Other Size Features: Re-closable Zipper, Hang Hole and a Tear Notch
Color: All Clear
Barrier Level: Exceptional and Heat Sealable
Smell Proof + Oxygen and Moisture Control.
High Nylon Mylar laminate the ultimate Mylar
Keep your product safe from moisture and oxygen
Free Shipping
Description
Additional information
Description
Our DuraClear pouches are made from an amazing clear barrier film, which has great weight and cost to barrier ratios. DuraClear is made from a lamination of BoPet and LLDPE to exhibit technical characteristics essential to an excellent food-grade packaging. This clear poly-laminated barrier film has a 3mil thickness with an exterior film of 48ga PET (Nylon – Mylar) and an interior film of LLDPE. Versatile and strong, the little pouch is the pouch that can make your product sell!
Outstanding dimensional stability, good surface and barrier properties.
Heat Sealable + Tear Resistant
Moisture Proof + Smell Proof
High Clarity
Insects, fungi, mold, and mildew resistant.
Good flatness and coefficient of friction for machine loading
BPA Free
TSE and Sulfer Free
Pthalates free
California Toxins in Packaging Compliant
Prop 65 Compliant
FDA Food Grade
CA Toxins in Packaging Compliant
R.E.A.C.H and RoHS Compliant
Kosher
IDEAL FOR: Storing food and other perishable products, while maintaining freshness and extending shelf-life. FREE OF TOXINS: BPA, TSE and sulfur, and Phthalates. This product has undergone a comprehensive quality assurance to conform to government regulations including compliance with FDA, CA Toxins in Packaging, R.E.A.C.H. and RoHS, Kosher and more.
DURABILITY: DuraClear use of BoPET with a high nylon content makes it a flexible, strong and durable barrier film, and provides a potent barrier in comparison to its weight and price, making it suitable for many applications.
HEAT SEALING: Due to a laminated LLDPE interior, DuraClear also exhibits outstanding heat sealability. The BoPET exterior allows an excellent UV resistance and decent retention of the packaging physical properties over a wide temperature range.
LAMINATED INTERIOR: The interior of the pouch is laminated with quality 2-way barrier protection against smell and moisture. The laminated interior also allows the packaging to retain its original fresh conditions while retaining liquid substances without any leakage.
CLARITY INTERIOR: Despite having two layers of different polymers, DuraClear exhibit crystal clear façade, with high clarity and gloss due to polymeric properties of both Mylar and LLDPE, to quickly discern the contents without having to expose the package up while exuding a presentable and aesthetic packaging.
Zipper Pouch Gusset Bag Dimensions
Note: Product titles are listed in order of Width x Length x Gusset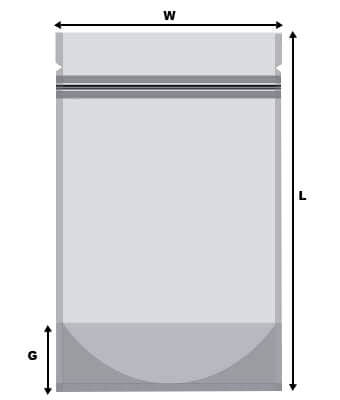 | | | | |
| --- | --- | --- | --- |
| Size (Outer) | Width | Length | Gusset |
| 2×3 | 2" | 3" | |
| 3.5×4.5 | 3.5" | 4.5" | |
| 4x6x2.5 | 4" | 6" | 2.5" |
| 5×8.5×3 | 5" | 8.5" | 3" |
| 6×9.5×3.5 | 6" | 9.5" | 3.5" |
| 7.5×11.5×3.5 | 7.5" | 11.5" | 3.5" |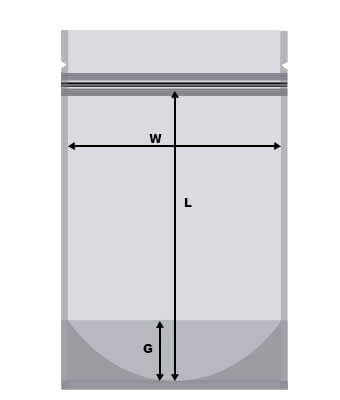 | | | | |
| --- | --- | --- | --- |
| Size (Inner) | Width | Length | Gusset |
| 2×3 | 1.5" | 2.25" | |
| 3.5×4.5 | 2.75" | 3.5" | |
| 4x6x2.5 | 3.25" | 4.5" | 2.5" |
| 5×8.5×3 | 4.25" | 7" | 3" |
| 6×9.5×3.5 | 5.25" | 8" | 3.5" |
| 7.5×11.5×3.5 | 6.75" | 10" | 3.5" |