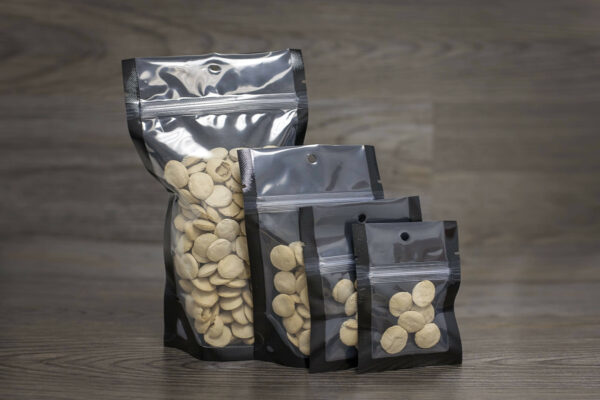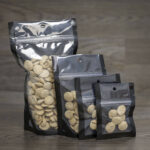 Now You See Me – Clear/Black Lay Flat & Stand Up Pouches Food Storage Ziplock Mylar Bags
$10.00 – $225.00
Our ever popular American Made 'Now You See Me' configuration with black back / clear front food storage ziplock mylar bags. This is a very high quality lay flat or stand up pouches is the ultimate display packaging for your product!
Features: Re-closable Zipper, Hang Hole and a Tear Notch
Color: Clear Front / Black Back
Barrier Level: Exceptional, and Heat Sealable
Smell Proof + Oxygen and Moisture Control
High Nylon Mylar laminate the ultimate Mylar
Free Shipping
Description
Additional information
Description
Our NYSM Black Edition combines two awesome films DuraClear and SuperBlack. This is a strong bag and can be used to keep your products fresh and protected. Customers have used this bag for everything from nutritional supplements, to industrial chemicals, and even medical marijuana. Your customers don't want stale, tasteless, or moldy food. Our NYSM Black Edition Smell Proof Bags and mylar packaging feature the same industry leading Moisture Control Technology as our other products. Each of our bags are constructed with a specific combination of FDA approved food grade materials that are engineered to control both oxygen and moisture within the bag. This bag will keep your edible product fresh and tasty longer. You will also experience much increased shelf life.
DuraClear & SuperBlack Combined.
Heat Sealable.
Moisture Proof + Smell Proof
Increase Shelf Life
Made in U.S.A.
BPA Free
TSE and Sulfer Free
Pthalates free
FDA Food Grade
CA Toxins in Packaging Compliant
R.E.A.C.H and RoHS Compliant
Kosher
IDEAL FOR: Display packaging for perishale products. Storing food and other perishable products, while maintaining freshness and extending shelf-life.
DURABLE: Made of high nylon content mylar style barrier materials.
HEAT SEALING: Quick and easy to heat seal.
FDA APPROVED: These stand up pouches are approved for food contact and are mdade of FDA approved food grade materials.
FREE OF TOXINS: BPA, TSE and sulfur, and Phthalates. This product has undergone a comprehensive quality assurance to conform to government regulations including compliance with FDA, CA Toxins in Packaging, R.E.A
Zipper Pouch Gusset Bag Dimensions
Note: Product titles are listed in order of Width x Length x Gusset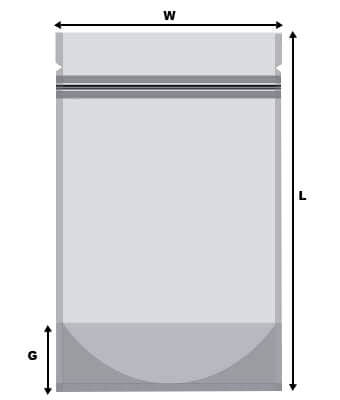 | | | | |
| --- | --- | --- | --- |
| Size (Outer) | Width | Length | Gusset |
| 3.5×4.5 | 3.5" | 4.5" | |
| 4x6x2.5 | 4" | 6" | 2.5" |
| 5×8.5×3 | 5" | 8.5" | 3" |
| 6×9.5×3.5 | 6" | 9.5" | 3.5" |
| 7.5×11.5×3.5 | 7.5" | 11.5" | 3.5" |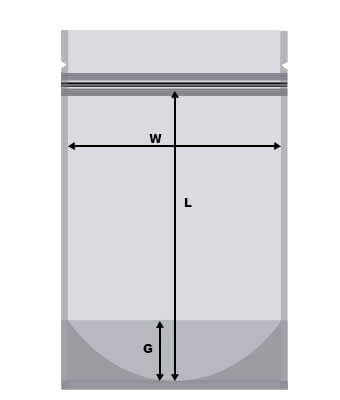 | | | | |
| --- | --- | --- | --- |
| Size (Inner) | Width | Length | Gusset |
| 3.5×4.5 | 2.75" | 3.5" | |
| 4x6x2.5 | 3.25" | 4.5" | 2.5" |
| 5×8.5×3 | 4.25" | 7" | 3" |
| 6×9.5×3.5 | 5.25" | 8" | 3.5" |
| 7.5×11.5×3.5 | 6.75" | 10" | 3.5" |