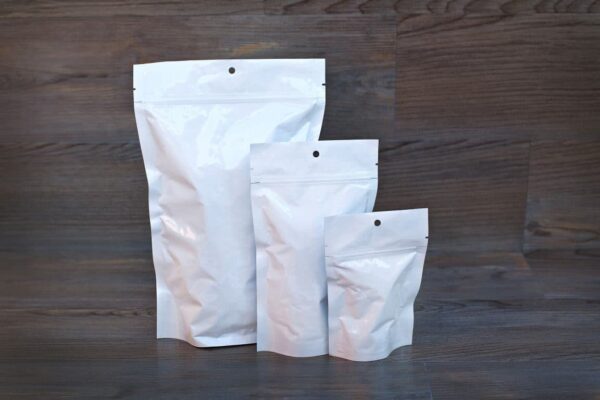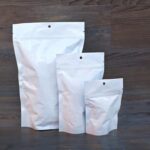 UltraWhite Lay Flat & Stand Up Pouches Food Storage Ziplock Mylar Bags
$10.00 – $289.00
Versatile and strong, this lay flat and stand up pouches will make your product sell! Foil is the ultimate barrier, and these mylar bags are second to none. The combination of a nylon / mylar exterior with a foil interior means our white ziplock bags scream quality.
Features: Re-closable Zipper, Hang Hole and a Tear Notch
Color: Shiny White Exterior / Foil Interior
Barrier Level: Great
High Smell and Moisture Barrier
BPA, TSE Sulfer & Pthalates Free
FDA Food Grade & Kosher
Free Shipping
Description
Additional information
Description
Ultrawhite is a high-grade barrier packaging product made up of five different layers with different barrier and technical properties to each layer. The exterior layer has 48 ga polyethylene terephthalate (PET) film while the interior is made up of Linear Low-Density Polyethylene (LLDPE) of 1.5mil thickness. Embedded between the exterior and the interior layers are two layers of 12 films of Polyethylene (PE) each and 0.000285 foil thickness. The nylon content makes these pouches very durable yet lightweight . When used as a packaging material the weight of the packaging is greatly reduce as compared to glass or HDPE containers. The mylar exterior can resist damage from chemicals and other external factors.
Highest Foil Barrier
Heat Sealable.
Moisture Proof + Smell Proof
Increase Shelf Life
Insects, fungi, mold, and mildew resistant
Made in U.S.A.
BPA Free
TSE and Sulfer Free
Pthalates Free
FDA Food Grade
CA Toxins in Packaging Compliant
R.E.A.C.H and RoHS Compliant
Kosher
IDEAL FOR: Display packaging for perishale products. Storing food and other perishable products, while maintaining freshness and extending shelf-life.
MOISTURE AND OXYGEN CONTROL: Made of high-grade Mylar and FDA approved food grade materials, these barrier bags are engineered to extend shelf life by protecting against oxygen and moisture from penetrating the bag keeping edible products fresh tasting for longer.
LAMINATED INTERIOR: The interior of the pouch is laminated with quality 2-way barrier protection against smell and moisture. The laminated interior also allows the packaging to retain its original fresh conditions while retaining liquid substances without any leakage.
HEAT SEALING: Quick and easy to heat seal.
DURABLE: Made of Metalized Mylar providing a vacuum-deposited thin surface coating of aluminum to create a flexible, durable, and robust barrier ideal for food storage.
FREE OF TOXINS: BPA free, TSE and sulfur free, and Phthalates free. This product has undergone a comprehensive quality assurance to conform to government regulations including compliance with FDA, CA Toxins in Packaging, R.E.A.C.H. and RoHS, Kosher and more.
Zipper Pouch Gusset Bag Dimensions
Note: Product titles are listed in order of Width x Length x Gusset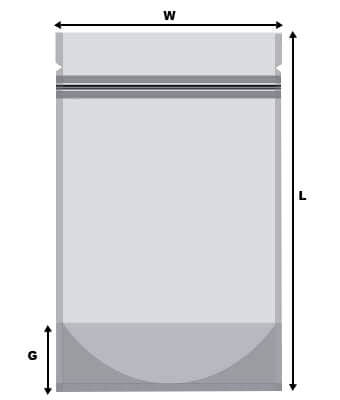 | | | | |
| --- | --- | --- | --- |
| Size (Outer) | Width | Length | Gusset |
| 2×3 | 2" | 3" | |
| 3.5×4.5 | 3.5" | 4.5" | |
| 4x6x2.5 | 4" | 6" | 2.5" |
| 5×8.5×3 | 5" | 8.5" | 3" |
| 6×9.5×3.5 | 6" | 9.5" | 3.5" |
| 7.5×11.5×3.5 | 7.5" | 11.5" | 3.5" |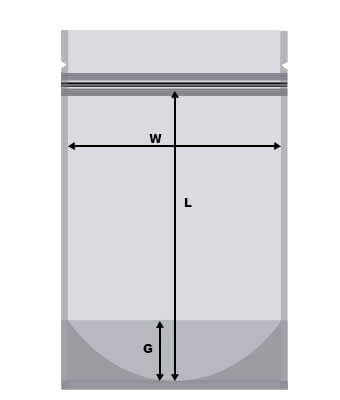 | | | | |
| --- | --- | --- | --- |
| Size (Inner) | Width | Length | Gusset |
| 2×3 | 1.5" | 2.25" | |
| 3.5×4.5 | 2.75" | 3.5" | |
| 4x6x2.5 | 3.25" | 4.5" | 2.5" |
| 5×8.5×3 | 4.25" | 7" | 3" |
| 6×9.5×3.5 | 5.25" | 8" | 3.5" |
| 7.5×11.5×3.5 | 6.75" | 10" | 3.5" |