Eco-Friendly Packaging
Eco Friendly Packaging is barrier packaging that comes in several forms. Environmentally friendly packaging can be easily recycled, or it can be biodegradable / compostable, and may also use renewable materials for its construction. Companies today searching for a more earth friendly approach to reduce their ecological footprint can consider changing over to eco friendly packaging. Most businesses are hoping to become environmentally friendly with their packaging but doing so can be a daunting process, as these eco friendly materials do not always perform the same as more traditional barrier materials made of plastics, aluminum, and other synthetic materials. But in the long term a switch to eco friendly packaging materials will make your company all the more appealing to consumers. We offer several packaging options which can meet your unique requirements.
Why Use Eco Friendly Packaging?
Eco Friendly Packaging ,also known as Green Packaging is becoming the focus of government regulation and consumer preference.  Changing to Eco Friendly Packaging is a thing you might want to consider if you can ensure a similar shelf life, and adequate level of protection for your product. Green packaging can greatly reduce your impact on the environment. Doing so likewise empowers you to grow your client base by demonstrating that you are focused on environmental responsibility. No matter what industry you are in, eco friendly packaging are versatile enough to suit most application. But not all products are good fits for eco friendly packaging. While the technology continues to improve, the limitations of these materials should not be underestimated for certain applications. Eco Friendly Packaging causes less harm to nature than traditional packaging, Here are three classifications of eco-friendly packaging.
Recyclable VS. Compostable VS. Biodegradable
"Recyclable", "Compostable" and "Biodegradable", are sometimes mistakenly used as interchangeable terms when describing materials. However, there are significant contrasts between them from both making decisions on what is application appropreate as well as how the end user will dispose of the packaging.
Recyclable materials can be reprocessed into new items. Following the "reduce, reuse, recycle," waste hierarchy this avoids resources being lost into landfill or incineration. Things can either be reused into a similar item (for example glass bottles into glass bottles) or into a lower grade material (for example composing paper into toilet rolls).
+ Can be tossed into the recycling bin
– Generally, are made from non-renewable materials
+ The material are more tried and true (cheaper)
+ Lower barrier than traditional flexible barrier materials.
Compostable materials require unique conditions to break down and may not compost in landfill. The infrastructure to gather and move compostable packaging to composting facilities is developing, but varies by jurisdiction. Where specific composting collections are not available locally the best option to compost on site what is called Ambient Compostable.
+ Will biodegrade and turn into dirt overtime
– Shorter shelf life than plastics
– Higher in cost
+ Made of bio-plastic plant based plastic which is renewable.
Biodegradable materials will break down naturally, yet there's no time span. A fork that is biodegradable could be covered for a considerable length of time before it starts to break down. A biodegradable material can be characterized as a material which can be decayed by bacteria or other natural organisms and not be adding to pollution in environment.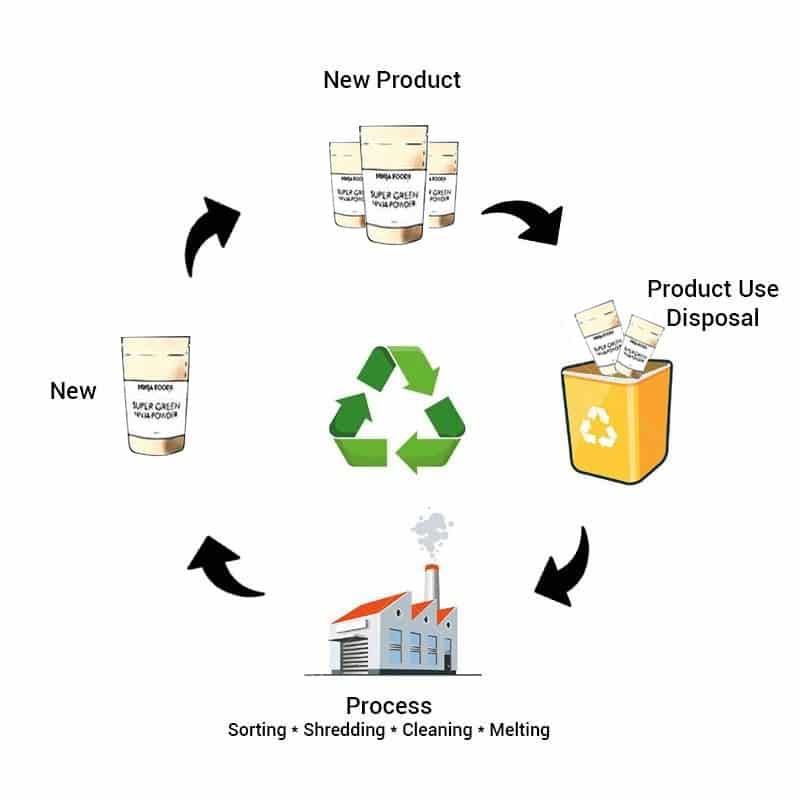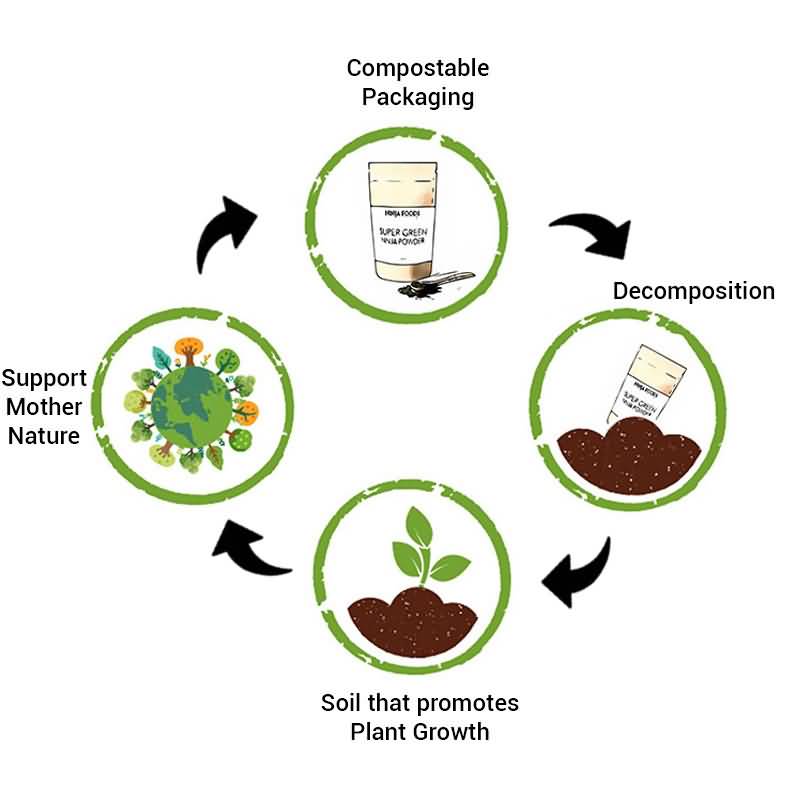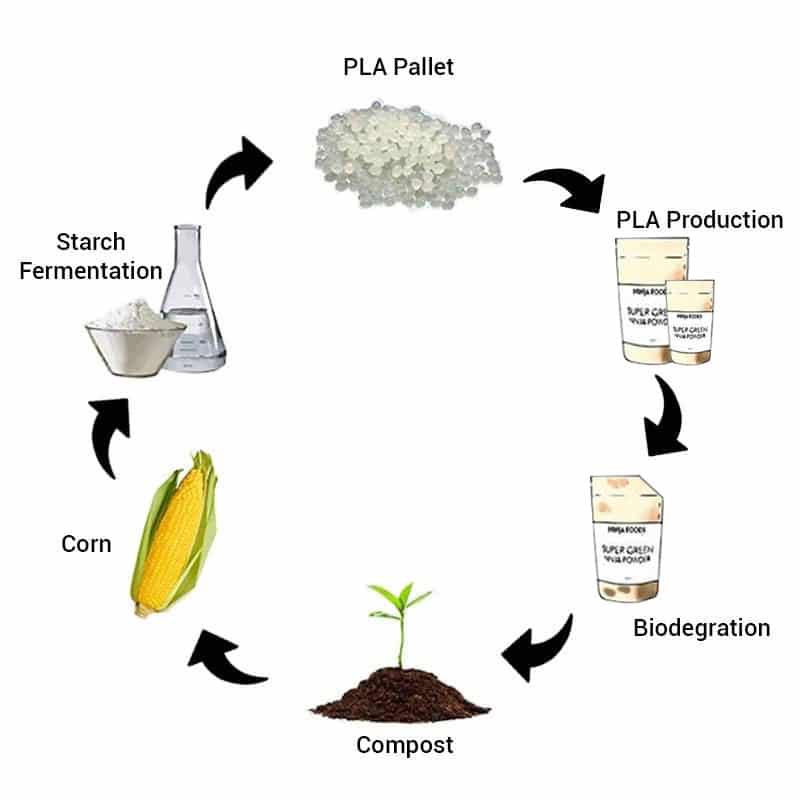 Reusable Packaging: Reused packaging is a eco friendly option that is viable for a select type of product. Glass milk bottles, water cooler bottles, and beer growlers are the most common examples.Unfortunately for most consumer goods, reusable packaging is not realistic, or advisable.
Recycle-Ready Packaging: Recycle ready packaging in relation to stand up pouches, and other flexible barrier packaging applications, is composted of materials that are easily sorted and can be recycled. At PouchWorth, we offer recycle-ready materials that use common mono-substrates, instead of the traditional use of combining different materials in the same lamination structure.
Compostable / Biodegradable Packaging: But ultimately the goal of eco friendly packaging is to reduce use of materials that do not bio-degrade well, and reducing the use of non-renewable materials. This is where biodegradable compostable material come into play, and why most people believe these materials are the future of packaging.
Eco Friendly material options for your custom packaging
| | | | | | | | | | |
| --- | --- | --- | --- | --- | --- | --- | --- | --- | --- |
| Material Code | Name | Eco-Friendly Style | Description | Minimum Order | Printable | BioBased | Stand Up Pouch | Lay Flat Bags | Custom Sizing |
| 5001 | BioKraft | Compostable / Biodegradable | Kraft paper exterior with compostable heat seal barrier liner. | 5,000 Bags* | Yes | Yes | Yes | Yes | Yes |
| 5002-A | BioClear-A | Compostable / Biodegradable | Semi-clear compostable barrier material a good base for custom printed projects. | 25,000 bags* | Yes | Yes | Yes | Yes | Yes |
| 5002-B | BioClear-B | Compostable / Biodegradable | Very clear base layer compostable, but more brittle then BioClear-A. Great for product windows. | 50,000 bags | Yes | Yes | Call | Yes | Yes |
| 5003 | NatureFlex NKR | Compostable / Biodegradable | Coated Transparent Cellulose, high clarity, and CFR73 compliant. Good oil and grease resistance. | 75,000 bags | Yes | Yes | Yes | Yes | Yes |
| 5004 | Mitsubishi BioPBS | Compostable / Biodegradable | Ambient compostable, FCN approved PBS material. | 100,000 bags | Yes | Yes | Yes | Yes | Yes |
| 5005 | Recycle-ready 4 | Recyclable | "Code 4" Biax clear base recycleable barrier film, printable, product window compatible. | 25,000 bags | Yes | No | Yes | Yes | Yes |
| 5006 | Recycle-ready 5 | Recyclable | "Code 5" Biax clear base recycable barrier film, printable, product window compatible. | 10,000 bags | Yes | No | Yes | Yes | Yes |
Recyclable Plastic Bags "Recycle-Ready": We offer two recycle ready options.
Compostable Plastic Bags: We offer eco-friendly compostable bags, made of multiple types of compostable packaging materials. These environmentally friendly materials are made of plant based bio-plastics, cellulose, and paper. They allows the end user of your product to discard the packaging directly into the compost. Some materials require industrial composting facilities to quickly compost, while others are at-home compostable. Generally, since most people rely on their municipal waste service to take away all their trash, industrial compostable is a adequate option.

Ready to get started? We would love to help!
Call

1-949-336-1541