Reusable Plastic Bags
Elizabeth
Impress your customers and help the environment with recyclable plastic bags and stand up pouches.
We sell recycle ready in the following configurations:
Stand Up Pouches
3 Seal Bags
2-Seal Fold over bottoms
Fin Seal bags
Printed Pouches
Nonprinted Custom sized.
Laminated plastic barrier films are among the most popular and important materials utilized in the modern world. These materials can enhance shelf life, protect the products for the elements, and reduce weight in transport. But, these same amazing properties make them difficult or near impossible to recycle. Through the use of specific recycle ready materials, your bags and pouches can be recyclable.
Applications for Custom Recyclable Bags
Not all packaging applications are good fits for recyclable plastics, but there are many applications where recyclable plastic bags could be a good fit:
Applications not generally suitable for recyclable plastic bags: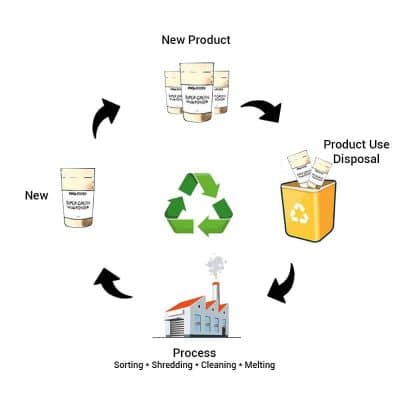 Custom Recyclable Bags Ready
At PouchWorth, we have two exciting new recycle-ready materials for making recyclable plastic bags. These materials can be used on both non-printed and custom printed orders. We'll be with you every step of the way, to help you through the hurdles of developing your desired recyclable plastic bags for your product come to life.
We divide our recyclable bags into two main categories based on their recycling type. Because of the way that standard plastic is non-biodegradable, it is important that as packaging as possible is recycled. It is fundamental to the  global efforts to reducing plastic and solid waste in the environment.
5005 Recycle-Ready: Our "Code 4" material is a recycle-ready biax PE, it has a lower barrier than traditional lamination, but has nice clarity, and can be matte varnished.
5006 Recycle-Ready: "Code 5" cross laminate material with a PP base, it provides higher barrier than our code 4 material and has slightly higher strength. It is available as all matte or all gloss.
| | | | | | | | | | |
| --- | --- | --- | --- | --- | --- | --- | --- | --- | --- |
| Material Code | Name | Eco-Friendly Style | Description | Minimum Order | Printable | BioBased | Stand Up Pouch | Lay Flat Bags | Custom Sizing |
| 5001 | BioKraft | Compostable / Biodegradable | Kraft paper exterior with compostable heat seal barrier liner. | 5,000 Bags* | Yes | Yes | Yes | Yes | Yes |
| 5002-A | BioClear-A | Compostable / Biodegradable | Semi-clear compostable barrier material a good base for custom printed projects. | 25,000 bags* | Yes | Yes | Yes | Yes | Yes |
| 5002-B | BioClear-B | Compostable / Biodegradable | Very clear base layer compostable, but more brittle then BioClear-A. Great for product windows. | 50,000 bags | Yes | Yes | Call | Yes | Yes |
| 5003 | NatureFlex NKR | Compostable / Biodegradable | Coated Transparent Cellulose, high clarity, and CFR73 compliant. Good oil and grease resistance. | 75,000 bags | Yes | Yes | Yes | Yes | Yes |
| 5004 | Mitsubishi BioPBS | Compostable / Biodegradable | Ambient compostable, FCN approved PBS material. | 100,000 bags | Yes | Yes | Yes | Yes | Yes |
| 5005 | Recycle-ready 4 | Recyclable | "Code 4" Biax clear base recycleable barrier film, printable, product window compatible. | 25,000 bags | Yes | No | Yes | Yes | Yes |
| 5006 | Recycle-ready 5 | Recyclable | "Code 5" Biax clear base recycable barrier film, printable, product window compatible. | 10,000 bags | Yes | No | Yes | Yes | Yes |

Ready to get started? We would love to help!
Call

1-949-336-1541