There are several major advantages of choosing our Natural kraft pouches as highlighted below:
Laminated Interior: The interior of natural kraft is well laminated with quality barrier protection against smell and moisture content. The laminated interior allows the packaging to retain its original conditions and have a natural feel. However, it can adequately retain liquid substances without any leakage.
Great "Natural" Look: Perhaps the key benefit of Natural kraft pouches are that they have the natural and attractive look of rough kraft paper, but the barrier advantages you need to you're your product fresh longer! These bags have a seam strength of 5.5lb/in in accordance to ASTM F88 testing method. The tear easily in all directions and are not a good choice for heavy loads or where you might need extra tensile strength.
Resistant to insect and micro-organism attack: This product does not give rooms for micro-organisms like mildew, fungi, bacteria, and mold to enter once properly heat sealed. But like all papers, this product must be left away from water, as it will destroy the outer layer of kraft paper.
Outstanding dimensional stability, good surface and barrier properties.
Heat Sealable + Tear Resistant
Moisture Proof + Smell Proof
High Clarity
Insects, fungi, mold, and mildew resistant.
Good flatness and coefficient of friction for machine loading
BPA Free
TSE and Sulfer Free
Pthalates free
California Toxins in Packaging Compliant
Prop 65 Compliant
FDA Food Grade
CA Toxins in Packaging Compliant
R.E.A.C.H and RoHS Compliant
Kosher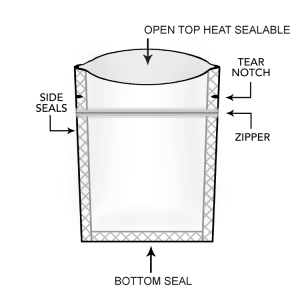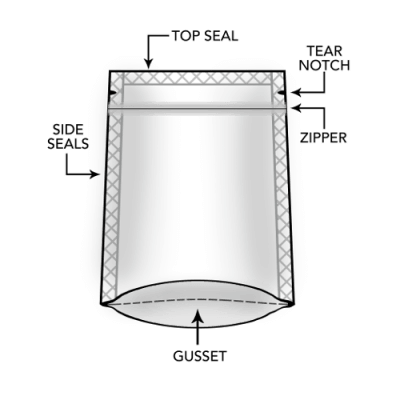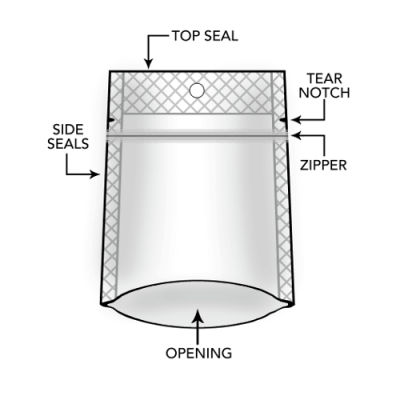 Stock Sizing and Features Table
| | | | | | |
| --- | --- | --- | --- | --- | --- |
| WxLxG (O.D.) | Configuration | Zipper | Hang-Hole | Tear Notch | Heat Sealable |
| 3.5″x4.5″ | 3-Seal | Yes | Yes | Yes | Yes |
| 4″x6″x2.5″ | Stand Up Pouch | Yes | Yes | Yes | Yes |
| 5″x8.5″x3″ | Stand Up Pouch | Yes | Yes | Yes | Yes |
| 6″x9.5″x3.5″ | Stand Up Pouch | Yes | Yes | Yes | Yes |
| 7.5″x11.5″x3.5″ | Stand Up Pouch | Yes | Yes | Yes | Yes |
How to choose the right size SUP for your product

Natural Kraft provides great barrier.
"Natural" and environmentally friendly packaging is in. But barrier to oxygen and mositure is still critical for shelf stable products. Our Natural Kraft is one of our most popular materials. great look and feel that stands out from the competition, and the barrier of foil to help protect your product from drying out.
Highly functional Ziplock: The stock versions of this product have a re-closable flange zipper that keeps the flavor and original properties of the packaging in shape. It also has a tear notch which allows for easy opening. Also available without these features if needed.
Heat sealable: Natural kraft pouches are heat sealable due to their use of a FDA approved interior heat sealing layer, (no foil ever touches the product inside!)
Whole Foods: A customer let us know how well their products were selling at whole foods once they switched to the Natural Kraft "I was really shocked at how well the customers received the packaging, I was able to increase volumes at the stores I am in by 25%, thanks so much!"
Natural Kraft Lamination Structure
They are made by combining classic composite material in which the interior is a laminate of foil and polyethylene (PE) food contact safe. The kraft paper used in the outer layer has a weight of 30lb and the interior is a brown heat sealable FDA approved layer.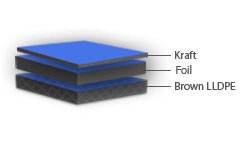 Natural Kraft #3001 Technical Specifications
| | | |
| --- | --- | --- |
| Specification | Measure | Value |
| Caliper | mils | 5.0 |
| Weight | Lbs / Ream | 73 |
| Moisture Transmission rate (MVTR) | gms/100 sq. in./24h | .0006 |
| Oxygen Transmission Rate (OTR) | cc/100 sq. in./24h | .0006 |
| Seam Strength | lb/in | 5.5 |
Moisture & Oxygen Control Technology
Natural kraft stand-up pouches provides barrier protection against oxygen and water. The moisture and oxygen control technology present in this product is second to none. Embedded in this well-designed product is a Moisture Transmission Rate (MVTR) of 0.0006gms/100 sq. in. /24 hrs and excellent Oxygen Transmission Rate (OTR) of 0.0006 cc/100 sq. in. /24 hrs in accordance with ASTM- F1249 and ASTM D3985 testing method respectively. Therefore, it is fit for packaging baked goods, snacks, confections and much more.