| | | |
| --- | --- | --- |
| Size | Water | Herb |
| 2″x3″ | Teaspoon | 1 Gram |
| 3.5″x4.5″ | 1 oz | 1/8 oz | 3.5g |
| 4″x6″x2.5″ | 5 oz | 1/4 oz | 7g |
| 5″x8.5″x3″ | 16 oz | 1/2 oz | 14g |
| 6″x9.5″x3.5″ | 32 oz | 1.0 oz | 28g |
| 7.5″x11.5″x3.5″ | 64 oz | Varies |
SilverDollar - An MPET/LLDPE that Shines Above The Rest
SilverDollar is a economical and effect pouch solution! SilverDollar, is a versitle workhorse of a material, and is fully ready for any industrial or FDA as it is free of toxins – BPA, TSE and sulfur, and Phthalates. Furthermore, it has undergone a comprehensive quality assurance to conform to government regulations including compliance with FDA, CA Toxins in Packaging, R.E.A.C.H. and RoHS, Kosher and more.
Durability. Metalized Mylar SilverDollar has a vacuum-deposited thin surface coating of aluminum to create a flexible, durable, and robust barrier. Other characteristics of metalized Mylar retained in the laminated film includes
Bright, opaque, metallic finish
Outstanding dimensional stability
Good flatness and coefficient of friction
Increased insulation properties
Potent barrier properties
High chemical corrosion resistance
Excellent Reflectivity and embossing performance. Besides demonstrating great toughness, SilverDollar has excellent  performance and high reflectivity. Comparable to an aluminum foil packaging, SilverDollar is less costly, compatible with more loading machines, and is a excellent option without sacrificing durability and quality.
Heat Sealing. The laminated LLDPE makes these pouches quick and easy to heat seal. Also, the metallized film exterior retains its ability to be heat sealed even when reformed as a composite laminate. Finally the opaque finish protects contents from light and UV oxidation.
Metalized PET (Mylar) Structure.
Heat Sealable.
Moisture Proof + Smell Proof
Increase Shelf Life
Insects, fungi, mold, and mildew resistant.
Made in U.S.A.
BPA Free
TSE and Sulfer Free
Pthalates free
FDA Food Grade
CA Toxins in Packaging Compliant
R.E.A.C.H and RoHS Compliant
Kosher
| | | | | | |
| --- | --- | --- | --- | --- | --- |
| WxLxG (O.D.) | Configuration | Zipper | Hang-Hole | Tear Notch | Heat Sealable |
| 2″x3″ | 3-Seal | Yes | No | Yes | Yes |
| 3.5″x4.5″ | 3-Seal | Yes | Yes | Yes | Yes |
| 4″x6″x2.5″ | Stand Up Pouch | Yes | Yes | Yes | Yes |
| 5″x8.5″x3″ | Stand Up Pouch | Yes | Yes | Yes | Yes |
| 6″x9.5″x3.5″ | Stand Up Pouch | Yes | Yes | Yes | Yes |
| 7.5″x11.5″x3.5″ | Stand Up Pouch | Yes | Yes | Yes | Yes |
In our stock program we offer 6 sizes, and 2 configurations, while on orders above 5,000 we offer a selection of sizes. Call for details.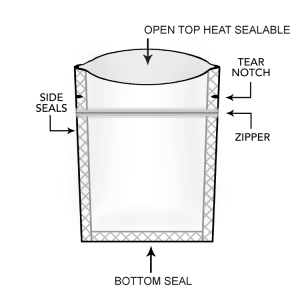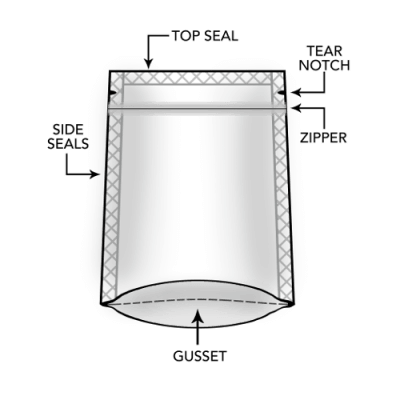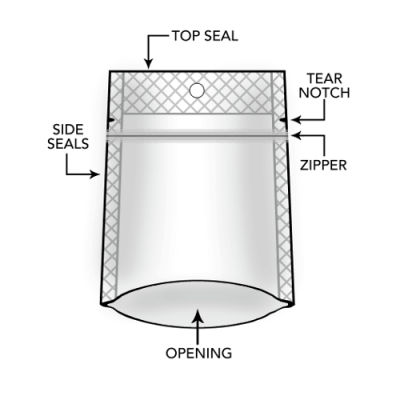 How to choose the right size SUP for your product

Silver Dollar provides great barrier.
Our Silver Dollar film is metalized Mylar at its best. Metalized PET with an FDS LLDPE interior liner. It is opaque silver and provides an excellent barrier with a classic feel.
Frank produces energy bars for the active customer. He needed a material that would let his customers carry the product in a backpack while on long hikes and outdoor adventures. Initially he thought he would pick our kraft pouches, but during discussions he realized that the kraft paper would not have the durability he needs, if the paper got wet the outside of the packaging would deteriorate (even though the contents was safe). So he picked SilverDollar and never looked back. Today we sell Frank printed custom pouches, but it all started with picking the right pouch!
Silver Dollar Lamination Structure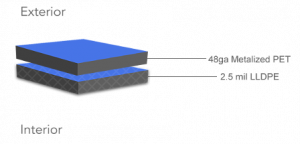 Silver Dollar #2001 Technical Specifications
| | | |
| --- | --- | --- |
| Specification | Measure | Value |
| Caliper | mils | 3.0 |
| Yield | sq.In/LB | 7,700 |
| Moisture Transmission rate (MVTR) | gms/100 sq. in./24h | .032 |
| Oxygen Transmission Rate (OTR) | cc/100 sq. in./24h | .04 |
Great Packaging For Many Products!
Safe for food, pharmaceuticals, and aromatic products. Due to very low permeation rates of oxygen and water vapor (MVTR and OTR), Silver Dollar is prominent for providing the most extended shelf life to its contents. This type of film is less expensive than aluminum packaging counterparts and so is used extensively for a wide variety of uses. For instance, Silver Dollar is excellent as a packaging media for cannabis, cosmetics, chemicals, pesticides, aromatic products, and others.
Pouches and Conversions. This material can be used for making a 2-seal pouch, 3-seal pouch, side gusset, stand up pouch, and tubing. Furthermore, conversion features include a reclosable zipper, rounded corners, tear notch, round hang hole, and a sombrero hang hole.